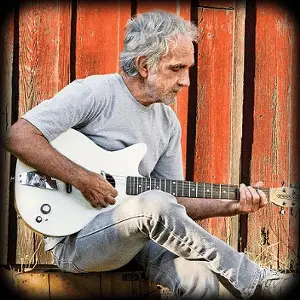 JJ Cale took relaxed, long-legged boogie rhythms, combined them with tunes that had roots in the Blues, wrote light, clever lyrics he delivered almost in a whisper, and carefully hand-crafted them into hugely influential records. His subtle, understated guitar style is cited by many renowned players as a model of quiet effectiveness.
John Weldon Cale was born in Oklahoma City in 1938, but grew up in Tulsa. He learned guitar as a teenager and began playing with various Rock'n'Roll and Western Swing bands, one of which also had Leon Russell on board. In 1959, John moved to Nashville where he joined the Grand Ole Opry's touring band for a few years, but after a short time back in Tulsa playing with Leon and local bassist Carl Radle, all three young men relocated to Los Angeles in 1964.
Working as a studio engineer, session musician and playing with Delaney and Bonnie Bramlett, John cut the first version of his song 'After Midnight' for Liberty records the following year. After a spell playing in a psychedelic band, he returned to Tulsa in 1967. Carl Radle and the Bramletts began playing with
Eric Clapton
, and his version of 'After Midnight' was a feature track on his big selling self-named solo album in 1970, and the single version went to No.18 in the Hot100.
Fantastic film of JJ, his wife Christine and Leon performing 'After Midnight';
Leon Russell had just set up his Shelter Records label, so he signed John and set about recording a solo album. Now known as JJ Cale, to distinguish him from the Velvet Underground bassist John Cale, he took a while to complete his album in Nashville, and 'Naturally' was released in 1972. The album sold well all over the world, partly on the back of Clapton's global status but it had a unique groove and fine tracks like 'Call Me the Breeze' and 'Clyde', which would later be covered many times. JJ enjoyed playing live music and he toured regularly, but he was never a prolific recording artist and he hated the promotional side of the business, refusing to lip-synch on TV. In the studio, he would arrange, engineer and produce his own music, playing most of the instruments and placing his vocals quite low in the mix. His albums 'Really' and 'Okie' appeared in the next two years, and 'Troubadour' was released in 1976. A track from this album, 'Cocaine', was again covered by Clapton on his 'Slowhand' album, and again it was a world-wide hit. JJ's distinctive and original laid-back style became known as 'the Tulsa sound', and was a huge influence on Mark Knopfler who was playing pub gigs in London with a band that would later become Dire Straits.
JJ and Eric rip it up at the 2004 Crossroads Festival;
JJ's later career mirrored his unhurried approach to music. He travelled around The States in a trailer; recorded an album every few years with modest titles like '5', '#8' and 'No.10'; seemed content to be a 'cult figure', and cashed those royalty cheques from covers of his songs by Clapton, Dr. Hook, Lynyrd Skynyrd, Poco, Captain Beefheart and many more. JJ was the subject of a documentary film 'To Tulsa and Back' in 2005, and won a Grammy in 2008 for 'The Road to Escondido', an album he made in collaboration with Eric Clapton. The following year, his own 14th album 'Roll On' was typical in that it was entirely self-written, self-produced and most tracks had no other musicians. Absolutely one-of-a-kind, JJ passed away from heart failure in California in 2013, at the age of 74.