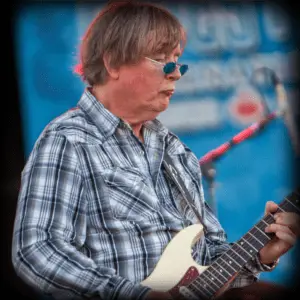 Guitarist Kim Simmonds is the leader and founding member of Savoy Brown, the British Blues-rock band who rose to fame in the Blues Boom of the 60s, gathered a big following in The States and are still touring today. Kim has extended his boundaries by going back to acoustic Blues as a solo artist, and through his other creative outlet as a painter, with his work on some of his album covers.
Kim was born in Newbridge, Wales UK in 1947, and learned guitar from listening to his big brother's Blues albums. Aged 18, he was drawn to the Blues clubs of London, immediately formed Savoy Brown and recorded a single for Mike Vernon's tiny mail-order Purdah label.
Mike's day job was as a producer for Decca Records, and he went on to produce their first four albums for the major label. Kim has always been the leader of Savoy Brown, but other musicians have been subject to frequent change: the line-up that cut their first album 'Shake Down' already had two new members.
That was an album was all covers of well-known Blues tunes, and it was followed by the mostly self-written 'Getting to the Point', following the recruiting of guitarist 'Lonesome' Dave Peverett and monocle-wearing singer Chris Youlden. Their third release, 'Blue Matter' was a mixture of studio and live tracks, and 'Louisiana Blues' from this album has always been a fixture of their live show.
'Train to Nowhere' from 'Blue Matter'
Touring The States got them a loyal following, and their album 1969 'A Step Further' sold well there. The same personnel recorded 'Raw Sienna', but their 'one-eyed' singer Chris had left when they cut 'Looking In', and 'Lonesome Dave' and the other members left en masse to form the successful Blues-rock band Foghat.
Kim's response was to recruit Paul Raymond and Andy Sylvester from Stan Webb's Chicken Shack, and Stan himself joined for a while later too. The new line-up recorded 'Hellbound Train' which made the Billboard Top 40 Album chart and Savoy Brown singles often featured in the lower reaches of the Hot 100 in the mid-70s.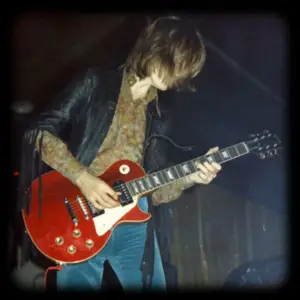 Recommended Album
Kim's second solo acoustic effort includes the poignant 'Blues for Lonesome', dedicated to Savoy Brown guitarist, Dave Peverett.
Savoy Brown could never claim to be a 'supergroup', but they have always been able to pull a crowd and sell some albums, and they continue to do so, with their 2011 release 'Voodoo Blues' getting great revues. As well as leading that band, Kim has a parallel career as a solo artist since his acoustic album 'Solitaire' in 1997. Displaying a sure touch with his playing, he issued four albums of self-written, modern Blues on the Blue Wave label, and would frequently plays solo gigs, especially around the Eastern seaboard.
Kim Simmonds passed away on December 13, 2022 at the age of 75, after being diagnosed with colon cancer.