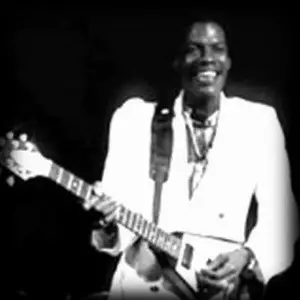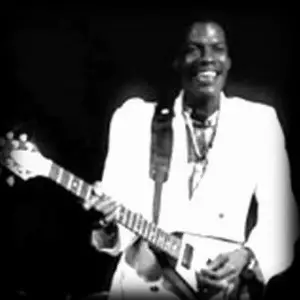 Little Jimmy King took elements of his mentor Albert King's soulful guitar sound, the flash of Jimi Hendrix and the power-trio oomph of Stevie Ray Vaughan, to make a concoction of modern Blues that deserved wider exposure. Sadly, it was not to be, as he was taken before his time.
Manuel Lynn Gales was born in 1964 in Memphis TN, into a family where music was all around, and his older brothers went on to form a successful Blues-rock trio. When Manny was six, he was given a guitar to share with his twin brother Daniel and, being left handed, learned to play it 'upside-down'. As a teenager he joined a Rock'n'Roll band, but turned to the roots of the music in the Blues, and was recruited by Albert King to be second guitarist in his band.
Albert was more of a mentor than just an employer, and 'adopted' the young man as a 'grandson', so Manny legally changed his name to King and also took on 'Jimmy' in honour of his other idol Jimi Hendrix. Jimmy learned a lot from Albert, another 'upside-down leftie' and his wild string-bending, the expansive style of Hendrix and some personal encouragement from Stevie Ray Vaughan were big factors in Jimmy setting out on his own.
His band The Memphis Soul Survivors released their debut album on the Bullseye label in 1991, combining slow Blues, up-tempo rockers and even a touch of funk.
Little Jimmy had it all; great voice, superb tone and truly fine style. This is posted in tribute to Jimmy, by his brother Eric
'Something Inside of Me' followed in 1994, when Jimmy was backed by SRV's rhythm section Chris Layton and Tommy Shannon, where covers of Albert King and
Elmore James
tunes were joined by Jimmy's own songs, showing is growing confidence as a writer. The following year he took on a side-project with his older brothers Eric and Eugene, and the power-trio recorded 'Left Hand Brand', where the spirit of Hendrix haunts many of the tracks. Jimmy and The Survivors kept their show on the road and their music began to edge towards Soul-Blues, as evidenced by their third Bullseye album 'Soldier For the Blues'. Another Soul-Blues legend,
Bobby 'Blue' Bland
, invited them to play at an awards ceremony in September 2000, and this kind of exposure looked like giving Jimmy's career a boost, but the big breakthrough he deserved never came.  Jimmy passed away in Memphis from a heart attack in 2002, but his memory lives on at
www.facebook.com/LittleJimmyKing