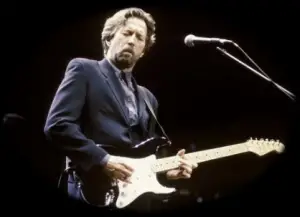 Eric Clapton became the world's first rock star guitar hero. The skinny white kid from England learned to play Blues guitar; rode the high wave of 60's rock revolution; wiped out spectacularly, and gradually earned respect as a lyrical and sensitive interpreter of the music. As an artist who tours and records regularly, and as the central figure in the tri-annual Crossroads Guitar Festival, Eric is still making a big contribution to the Blues.

When Eric was 18, he joined The Yardbirds as they blazed a trail at the forefront of the
British Blues Boom
. The band backed
Sonny Boy II
on his London recordings, before musical differences led to Eric leaving to join
John Mayall
's Bluesbreakers. Clapton was replaced in the Yardbirds by
Jeff Beck
, and later by Jimmy Page. Mayall's band were uncompromisingly hard core blues-men, and their 'Beano' album established Eric as a young guitar talent every bit the equal of
Freddie King
or
Buddy Guy
.
Eric shows his chops on 'Hideaway' from The Bluesbreakers 'Beano' album;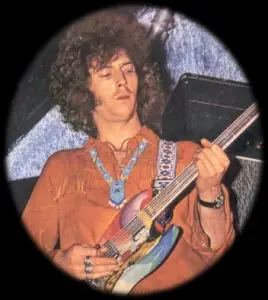 Graffiti declaring 'Clapton is God' began appearing all over Britain, and soon Eric left the Bluesbreakers where he was replaced by Peter Green. In July 1966, Eric formed the first 'supergroup', Cream, with bassist Jack Bruce and drummer Ginger Baker, who had both been honing their talents for improvisation on the London Blues and jazz scene for a while. Cream used Blues songs like Robert Johnson's 'Crossroads' and Skip James', 'I'm So Glad' as the starting point for dazzling instrumentals that took the possibilities of Blues-rock to a new level. Cream were together for just a little over two years, but they had a profound effect on the future of music. Elements of hard rock, jazz rock, progressive rock and even Heavy Metal are all there in Cream's output.
Stunning improvisation from Cream's Farewell show at the Royal Albert Hall;
Eric's next project was another 'supergroup', Blind Faith, with Stevie Winwood, which lasted for only a few months despite a sell-out tour and hit album. Eric joined with various American musicians to perform as Delaney and Bonnie and Friends, and later Derek and the Dominoes. This band,along with
Duane Allman
, featured on the album, 'Layla and Other Love Songs', inspired by Eric's infatuation with Beatle George Harrison's wife Patti Boyd, who Eric later married. Unrequited love, depression over the death of his friend
Jimi Hendrix
, and Eric's resulting heroin addiction, led to his withdrawal from public life for almost three years. His only appearance was at the Concert for Bangla Desh in 1971, which was organised by Harrison.
By 1974, Eric was cleaned up from his heroin problem and he began a solo career with a hit single covering Bob Marley's 'I Shot the Sheriff' and hit album, '461 Ocean Boulevard'. He attracted controversy in 1976 with an drunken racist rant on stage, resulting in the formation of 'Rock Against Racism' to counter growing fascist rumblings in the UK, but this aberration did not recur. Further massive albums like 'Slowhand' and 'Backless' followed, with the associated tours of the world's biggest venues. Eric fell victim to addiction again in the early 80's, alcohol this time, and his career stalled. Live Aid in 1985, was the first of many more benefit Concerts Eric played, and his history of addiction led him to set up a rehabilitation centre in Antigua.
The 1990's proved to be Eric's most successful commercial period. He sold out London's Albert Hall for 24 nights, and this was repeated several times. Tragedy, however, struck again with the death of his friend Stevie Ray Vaughan just after the pair had shared the stage, and a few months later Eric's young son Connor was killed in a fall. 'Tears in Heaven' expressed his grief. Albums like 'Journeyman', 'Unplugged' and 'Pilgrim' established Eric as one of the most consistently best selling artists in the world.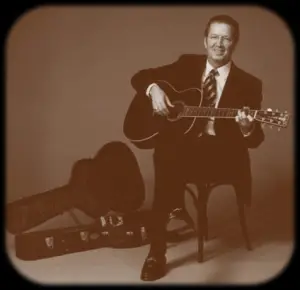 In 2000 Eric recorded 'Riding with the King' with BB himself, and in 2004 he released the album, 'Me and Mr. Johnson' where he interpreted the work of Robert Johnson, the man who inspired so much of his playing, and he co-authored a book on Johnson in which he describes him as 'the most important blues musician who ever lived.' The following year, Cream re-formed for a triumphant one-off concert at the Albert Hall, and the same venue saw Eric guest with Joe Bonamassa in 2009. Eric continues to tour occasionally, sometimes with Stevie Winwood, and his 2010 studio album 'Clapton' made the top ten on both sides of the Atlantic.
When Eric plays Mr. Johnson's songs, you can tell it's from the heart;
Eric had already set up an addiction rehab centre, and in 2004 he established the Crossroads Guitar Festival to support the enterprise, repeating the event every three years in different locations in The States. Eric continues to tour the world and release great albums, bringing his Blues to the people.
Mr. Clapton has received many awards in his time, OBE, CBE, countless Grammys and Gold and Platinum discs, Lifetime Achievements, Halls of Fame and even a BAFTA, but very few musicians have been known as 'God'!