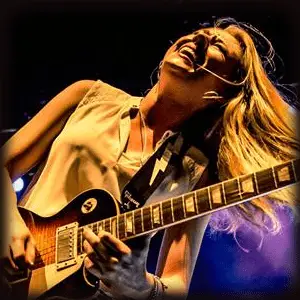 The Blues springs from some unlikely places these days, and a genteel English suburban neighborhood might seem pretty unlikely. It's as far from the Delta as you could get, and when you hear blistering Blues licks and heart-rending vocals coming from a pretty girl-next-door type who would look more at home on the cover of a magazine, you know there's a lot of different ways "we've come a long way baby!"
Joanne Shaw Taylor was brought up in Birmingham UK and, after picking up her brother's acoustic guitar, she knew from an early age that she wanted to play Blues guitar like her heroes Stevie Ray Vaughan and Albert Collins.
She was only 16 when she was heard by Dave Stewart, guitarist and founder of The Eurythmics, who had also made a film about
Delta Blues
players, 'Deep Blue' with
Robert Franklin Palmer
. Hearing the piercing, hard-edged licks coming from the hands of a little blonde girl, he asked her to join him in his DUP project, and they toured all over Europe in 2002.
Joanne aged 17.................(speechless!);
Several years on the road had sharpened Joanne's guitar chops when she signed for the German Ruf Records in 2008, and her debut album 'White Sugar' was produced by Memphis veteran Jim Gaines. It was well received, especially in The States where extensive touring helped Joanne to win a Blues Awards nomination for Best New Artist. Her follow-up album, 'Diamonds in the Dirt', also had Memphis veterans on board, with Steve Potts and Dave Smith in the rhythm section, and around that time Joanne also relocated her base to Detroit, which she credits with giving her music a heavier sound. Both albums went to No.8 in the Billboard Blues Album charts.
Joanne in full flow (play it loud!) Astonishing passion;
Festival dates and club tours rained down on Joanne, and she responded by upping her game still further. Her expressive voice, with its sultry tones, and with a great, rough growl for a little lady, seems to grow in strength and her guitar work is sublime. She played an extended solo as part of Annie Lennox's band at the Queen's Diamond Jubilee concert, with tens of thousands attending a show that was being broadcast around the world. Also in 2012, her third album 'Almost Always Never' was released, leading to more time on the road in Europe and The States. She truly owns the stage at her gigs, drawing the audience in to her quiet introspective numbers, then blasting their ears off with her mainly self-composed Blues-rock and, a personal favourite, a rendition of Hendrix's 'Manic Depression'. A live album, 'Songs from the Road' was issued in 2013, giving a taste of her raw energy, and during her tour to promote her latest album 'The Dirty Truth', British fans were treated to Joanne challenging Whitesnake guitarist Bernie Marsden to a 'cutting contest', and they both joined Joe Bonamassa on a Blues Cruise.
She signed to Sony Music's Silvertone label in 2019 and released her seventh studio album "Reckless Heart". In 2021 she released the single "If That Ain't a Reason" and album "The Blues Album" on Keeping The Blues Alive Label produced by Joe Bonamassa and Joss Smith. In 2022 she released the live album "Blues From The Heart" recorded in Tennessee .