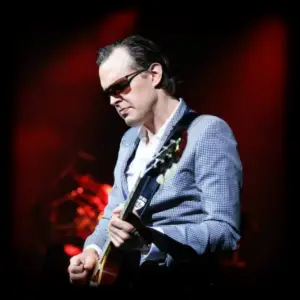 Joe Bonamassa is taking the Blues to new places, as his songwriting talents blossom and his virtuoso instrumental work explores infinite possibilities of a man and his guitar. Starting out as something of a 'boy wonder', Joe has developed into a mature artist who can impress the afficionados, and yet remain accessible to the first time listener. His clean, soulful guitar phrasing and his genuine Blues voice make him a modern recruit into the Clapton/Green/Gallagher brotherhood who re-interpreted the Blues for a new generation in the 60's, as he takes our music to new audiences in the new Millenium.

Born in New York State on May 8
th
1977, Joe was given a guitar when he was 4 years old by his parents, who ran a guitar shop. This might explain his later passion for exquisite vintage guitars! He grew up surrounded by music; his father played guitar; many other family members were players, and the family record collection was full of 60's and 70's blues-based rock. When Joe was 7, he could play note perfect versions of
Hendrix
and
Stevie Ray Vaughan
tracks and aged 11, he began appearing with his mentor Danny Galton's band. The following year he opened a show for
BB King
in New York!
A trip to a Fender event on the West Coast led to the formation of the band 'Bloodlines' with some famous musical sons. Erin Davis (son of Miles) Waylon Kreiger (son of Bobby) and Berry Oakley Jnr. put out a self-titled album in 1994 and they had a Top 40 single with 'Stone Cold Hearted'. The band split after opening a tour for Lynyrd Skynyrd.
Joe really is smokin' with 'Bloodlines' on his network TV debut;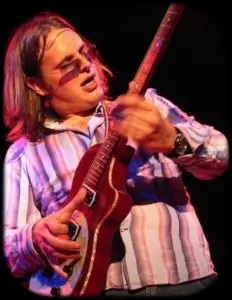 'Smokin' Joe' continued to develop his chops; BB King was an obvious influence, but Joe also looked towards Europe for his inspiration. Eric Clapton, Paul Kossoff (of Free), Jeff Beck, Peter Green and Gary Moore all influenced Joe's expressive and coherent solo lines. The young man continued to draw a wide circle of admirers, as he was invited to open shows for such legendary players as Buddy Guy, Robert Cray, Joe Cocker and Gregg Allman.
In 2000, Joe made his recording debut with 'New Day Yesterday', featuring covers of tracks by Rory Gallagher, Free, Jethro Tull and BB King, as well as six self-penned songs. The album made the Top Ten on the Blues Album Charts, and the next album, 'So, It's Like That', went to No.1. Joe's 2003 album 'Blues Deluxe' paid tribute to the track of that name on Jeff Beck's 'Truth' album and included 8 covers of songs by American Blues legends, as well as showcasing Joe's own developing song-writing talents.
Joe's version of a British classic 'Blues DeLuxe';
Joe continued to put out an album almost every year while keeping up a full schedule of touring. Like his idol Rory Gallagher, he obviously believes in keeping new records in the stores and the fans out of their seats. The 2005 album 'You and Me' is a reference to a song by Django Reinhart, another European who could flash out a dazzling guitar run, and this record also features a timely update on
Charley Patton
's 'High Water Everywhere'. All Joe's albums from this era combine his own songs with thoughtful interpretations of classic Blues and R&B numbers and each one scored highly in the Blues Album charts.
In 2009 Joe played a series of sell-out shows at London's Royal Albert Hall and he was visibly moved to be playing at the venue that has been so important in the history of British Blues. He was joined onstage by Eric Clapton and harp player Paul Jones, another graduate of Alexis Korner's Ealing Blues Club and also an influential Blues DJ with the BBC. Later that year Joe performed at the 'King of the Blues' event in LA and subsequently recorded an album with Glenn Hughes, Jason Bonham and Derek Sherinien, which was issued as 'Black Country Communion'. Another collaboration, with singer Beth Hart, appeared as 'Don't Explain' in 2011. This was a respectful tribute to some of the greatest Soul and R&B artists of the last century, and Joe's restrained and tasteful playing and Beth's impassioned delivery makes this album something greater than the sum of its parts. 'Black Rock', 'Dust Bowl' and 'Driving Towards Daylight' continued Joe's prolific output with no sign of running out of steam. In 2013, he played a series of shows in London, from the small Borderline Club, the Empire, the Apollo and on to the Albert Hall, and the resulting 'Tour de Force' CDs were released shortly after.
He might not be 'King of the Blues' just yet, but he is certainly sneaking up behind the Throne!