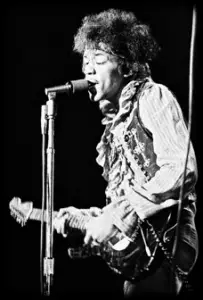 Jimi Hendrix was a Rock God. Fantastically talented and supremely self-confident, his iconic poster on a zillion bedroom walls, Jimi invented new sounds for the electric guitar and used them to illustrate his passionate songs in a spectacular career. Jimi took the music industry by storm when he arrived in London in 1966, made a handful of studio albums and film appearances and, after less than four years, it was all over. Behind the feedback, fuzz and flash, there was a solid Blues technique that inspired many who came after him, and Stevie Ray Vaughan, Eric Clapton and Buddy Guy were among the stylish guitarists who added a taste of Jimi to their playing.

James Marshall Hendrix was born in Seattle in 1942 and after his discharge from the Army in 1961, he took his guitar on the road as a sideman for R&B acts like
Little Richard
and the Isley Brothers. Even then his show-stealing, flashy stage persona was apparent, as Jimi was never content to just smile and play the chords. He moved to New York in 1964 to form his own band, and they played the club scene as Jimmy James and the Blue Flames, playing covers of
Muddy Waters
,
Robert Johnson
and
Jimmy Reed
songs. Jimi played with
Delta
Blues player
John Hammond Jr.
for a while, but when Chas Chandler of The Animals saw Jimi playing at The Cafe Wha? and offered to manage him if he would move to London, he jumped at the chance.
The Jimi Hendrix Experience, with drummer Mitch Mitchell and Noel Redding on bass, put out their first release, titled 'Hey Joe', in late December 1966 and it immediately went to Number 6 on the UK singles chart. When people got to see them play live, they could not believe their ears; Jimi's innovations were so radical, it was as if he had re-invented the guitar! The monstrous volume of his Marshall stack would feed back like a tornado but instead of turning it down, Jimi would position his guitar so as to use the feedback as a quality of the instrument. Fuzz boxes and wah-wah pedals were relatively new devices at the time, but Jimi's mastery of their possibilities was so complete, it was as if he had used them to open a portal to a new dimension. On stage, they were simply jaw-dropping. Jimi looked stunning with his big Afro and bright outfits, and his 'Charley Patton' tricks of playing behind his head and with his teeth, his extended solos that showed off his staggering technique and his sensual tongue-popping vocals were all delivered with grace and good humour. The first album, 'Are You Experienced' soon followed, showing Jimi to be a superbly talented songwriter, mixing the psychedelic 'Purple Haze' and 'Foxy Lady' with the wistful 'Wind Cries Mary' and Jimi's own classic Blues, 'Red House'. Jimi's performance at the Monterey Pop Festival, where his big finale was to incinerate his Strat on stage, established him at the cutting edge of the 'Summer of Love'. A second album, 'Axis: Bold as Love' followed a few months later, including the ominous 'If 6 was 9', the beautiful 'Little Wing' and the poignant 'Castles Made of Sand'. "I like writing slow songs" Jimi explained, "because it's easier to get more Blues feeling into them".
Jimi worked on the Electric Ladyland album through the first part of 1968, between touring and TV work, but a dispute with Chas Chandler led to their parting company. The double album was released in October and went to the top of the Billboard charts. 'Voodoo Child', 'Gypsy Eyes' and a reworked version of Dylan's 'All Along the Watchtower' were joined by a version of Earl King's 'Come On'. In early 1969 it was apparent that Noel Redding was unhappy with the situation, and Jimi's old Army buddy Billy Cox was recruited, first in the studio and then as a member of The Band of Gypsies, as they were now known. On August 18th 1969, Jimi took the stage to close the Woodstock Festival and, towards the end of the set, he struck up the National Anthem. America was in turmoil at that point in it's history, with a deeply divided society made more bitter by the previous year's assassinations of Martin Luther King and Bobby Kennedy, urban riots, Richard Nixon's 'silent majority' government, and the drafting of tens of thousands of young men into the increasingly bloody Vietnam war. This version of The Star Spangled Banner, with its screaming jets, its violent explosions and its raw pain and anger was the eloquent, wordless statement of a generation.
The Jimi Hendrix Experience from Live In Maui, 1970
As he continued to tour over the next few months, Jimi was overseeing his project to build the best studio in the world, Electric Ladyland in New York. Legal hassles, some dating back five years, prevented the appearance of a new album, but when Ladyland was completed in May 1970, Jimi commenced a massive recording session. He had been working with jazz musicians like John McLaughlin and Larry Coryell (and planning things with Miles Davis), and with proto-rappers The Last Poets. Jimi worked all summer until he had to leave for England, where he was due to headline the Isle of Wight Festival. After a superb show, Jimi returned to his apartment in London where he died under the influence of drink and drugs. He was found dead on September 18th 1970.
A vast legacy of recorded material, some from the early days in London, is being released by Jimi's father and step-sister Marcia, under the banner of The Experience Hendrix organisation, with the help of Jimi's engineer Eddie Kramer. Jimi's immortal legacy to us all is the way he re-invented the electric guitar and took the Blues into the rock genre, and onwards into a space without limits.
Who knows where he would have taken us next?