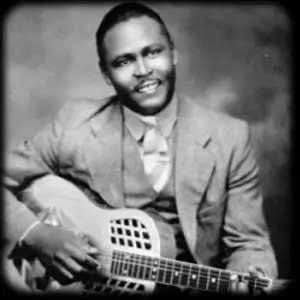 Kansas Joe McCoy did not have a long life, but it certainly was an eventful one. He was an excellent slide-guitar player from the Delta, who was also a fine baritone singer; he played with and married  Memphis Minnie in Memphis and when they relocated to Chicago they were pioneers of 'urban Blues'; Joe became the leader of the successful crossover Jazz/Blues/Hokum band the Harlem Hamfats, and then he wrote a classic song that has been enshrined in the American Songbook, but he died relatively young.
Joseph Allen McCoy was born in Raymond MS in 1905, and his kid brother
Charlie
came along four years later when the family had moved to Jackson MS. Both boys were self taught guitarists and spent a lifetime playing together. They began by playing at picnics and parties around town, and picked up hints from local men like
Ishmon Bracey
and
Walter Vinson
. The Blues scene in Memphis attracted the boys to move north in the mid-20s and Joe made a name for himself as a talented and delicate slide player and an excellent accompanist. As 'Kansas Joe' he joined The Beale Street Jug Band and began to play for his future wife, Lizzie Douglas, better known as Memphis Minnie. The couple married and moved to Chicago in 1930, where Minnie became one of the city's Blues elite, and Joe became an extremely busy session player. Joe released some records of his own and always played and often sang on Minnie's records, like 'Bumble Bee' and 'When the Levee Breaks', but Joe and his brother, now known as 'Papa Charlie' McCoy, also appeared on hundreds of other peoples' records. As was common at the time, Joe recorded under a series of names, including Georgia Pine Boy, Halleluja Joe, Hillbilly Plowboy and Hamfoot Ham.
This time Minnie accompanies Kansas Joe on 'Pile Driver Blues';
When Joe and Minnie divorced in 1934, Charlie and Joe formed a band that eventually became known as The Harlem Hamfats, who fused jazz and Blues styles and whose good-time material included some very rude 'hokum' songs. Joe wrote 'The Weedsmokers Dream' for the Hamfats in 1936, but when he re-worked the lyrics for Lil Green in 1941, 'Why Don't You Do Right' was a big R&B hit, and then a massive worldwide success for Peggie Lee when she recorded her cover version with Benny Goodman. The Hamfats were a popular band for a few years, but in 1939 Joe and Charlie formed Big Joe and His Washboard Band with Ransom Knowling on bass, Robert Lee McCoy (no relation but a.k.a. Robert Nighthawk) and Amanda Sortier on washboard.
This didn't last long as Charlie was drafted into WWII, but Joe was rejected owing to a heart defect. He formed another band to play the Chicago club scene and recorded for the Bluebird label throughout the War years but not long after peace finally came, Joe retired from music. He died from a heart-attack in 1950, at the age of 44, just a few months before his brother Charlie passed away too.
The Harlem Hamfats version of 'Weedsmokers Dream';