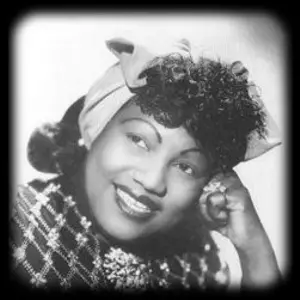 Lil Green had a beautiful, soulful voice trained in Mississippi Churches, honed in Chicago clubs and heard all over the country, especially at the Apollo in Harlem, where she regularly thrilled audiences. She was not a prolific recording artist, and she did not have a string of hits, but Lil did have her moment in the sun with a classic song, and she left some outstanding performances for later generations to cherish.
Lillian Green was born in rural Mississippi in 1919 into a deeply religious family where she was surrounded by Gospel music, and her vocal talents were first recognised in her Church choir. Her family moved to Chicago in the 30s and Lil started singing in local clubs, where she soon came to the attention of Bluebird Records producer Lester Melrose.
 Lil was a big favourite of
Big Bill Broonzy
and she sang many times with his band, and even toured with them. Melrose signed Lil to his label while she was still a teenager, and her own composition 'Romance in the Dark' scored her a big hit in 1940. The following year, Lil had another hit with a smouldering version of
Kansas Joe McCoy
's 'Why Don't You Do Right'. Kansas Joe had re-worked the song from his original 'Weedsmoker's Dream' into a more romantic number. This superb record would probably be part of all our collective memories, if it had not been superceded by Peggy Lee's massive hit with a cover version in 1942, where she was backed by Benny Goodman's Orchestra.
Lil is backed by Big Bill Broonzy on the original version of 'Why Don't You Do Right';
After WWII Lil was in great demand as a live performer. She moved to New York where she recorded for
Atlantic
, RCA and Aladdin labels, but she never had another big hit. She went on tour with a small combo as well as fronting bigger oufits like Howard Callender's and
Tiny Bradshaw
's Orchestras. Lil was a scintillating performer who could have gone on to much greater things if she had not gone down with a fatal bout of pneumonia in 1954, when she was just 35 years of age.