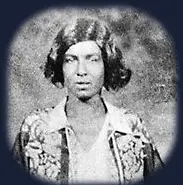 The classic period of Blues recording in the 20's was the era of the Blues Diva, glamorous women who the radio stations and record companies could promote as stars, like Hollywood did with its yound actresses. Memphis Minnie shattered that mould as a guitarist, singer and songwriter as steeped in country Blues as any Delta songster and when she moved to Chicago in 1930, she made a telling contribution to the Blues' urban transformation.

Minnie was born Lizzie Douglas in 1897 in rural Louisiana, but her family moved to northern Mississippi when she was ten. She was playing guitar and banjo on nearby
Memphis
streetcorners in her early teens and soon she joined Ringling Brothers circus. After some years of touring the South she wound up back on Beale Street where she met, played with and married Casey Bill Weldon, slide guitarist with the Memphis Jug band. This match lasted for a couple of years, but then Minnie switched her affections to another slide player,
Kansas Joe McCoy
. They were spotted by a scout for the Columbia label and in 1929 they recorded one of her best known numbers, 'Bumble Bee', issued under the name 'Memphis Minnie'.
'Bumble Bee' was an early hit for Minnie;
The following year, the couple, now married, moved to Chicago where they became part of the growing Blues scene. Minnie was a skillful guitarist and often beat more famous players like Tampa Red and Big Bill Broonzy in 'cutting contests' in the local clubs. Minnie and Kansas Joe were busy in the studio too: his delicate slide playing and her fluid, swinging chord work blended perfectly together, and his deep, booming voice complimented her precise and passionate singing. Minnie was a talented songwriter and her work ranged from heart-rending love songs to an incredibly rude 'hokum style'. Their records did not sell in huge numbers at the time, as the economic depression took hold, but work like 'When the Levee Breaks' ('borrowed' by Led Zeppelin), the saucy 'My Butcher Man', the even saucier 'Good Biscuits' and the devastating 'Moanin' the Blues' are of superb quality. The intensity of this last work may be explained by the fact that their relationship was on the rocks. Kansas Joe went on to record with his kid brother Charlie McCoy as 'The Harlem Hamfats' among other musical ventures.
Minnie's 'HooDoo Lady Blues' got her a new nick-name';
Minnie set out on her 'band period', recording with men like Bumble Bee Slim, Black Bob Hudson, Blind John Davis and Ernest 'Little Joe Son' Lawlers. Minnie married 'Little Joe' and his guitar work was heard alongside hers for years to come. They recorded some of Minnie's most enduring tracks at this time, including 'HooDoo Lady' and the raunchy 'Me and My Chauffeur Blues'.  Minnie's stark solo recording style, with only a 'second' guitarist, was always her strongest suit, allowing her confident and singular talents full expression.
In a twenty five year career on the Vocalion, Decca, Bluebird, Okey and Checker labels, Minnie cut well over 200 tracks. In her later years she recorded with
Sunnyland Slim
and
Little Walter
before her failing health led to her retiring back to Memphis in 1955.
The 'HooDoo Lady' passed away in 1973.