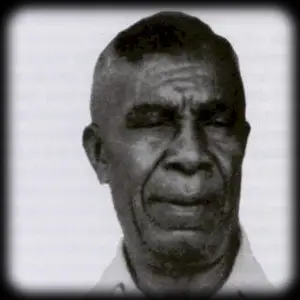 Walter Vinson is best known as a member of the renowned string-band The Mississippi Sheiks, and as co-writer of their huge 1930 hit 'Sitting on Top of the World'.
However, Walter's career had begun long before that and was to go on into the 1970s, like many of the originators of the Blues who enjoyed a re-awakened interest in their music during the Folk/Blues boom.
In 1901, Walter Vinson (not Vincson or Vincent) was born in Bolton MS just west of Jackson. He took to playing guitar when he was very young and began to perform in public while he was just a kid, playing for tips on the street.
As youth, he played at parties and 'fish-fries' with local Bluesmen like Ishmon Bracey, Tommy Johnson , Rubin Lacey and 'Papa Charlie McCoy.
Although he had a great voice, Walter always seemed to need playing partners, and when he joined The Mississippi Sheiks in 1928, he became part of one of the earliest Blues bands, playing all over the Delta.
The Chatmon brothers were the sons of Henderson Chatmon, a 'musicianeer' who was possibly an uncle of Charley Patton, and they all grew up playing in the family string-band.
Lonnie played fiddle, Arminter (aka Bo Carter) played guitar and Sam could play almost anything. When Walter joined them, they went on to be huge recording stars, taking their name from a big Rudolph Valentino movie of the 20s.
Walter and Lonnie supposedly wrote 'Sitting on Top of the World' after playing at a 'white' party, as audiences back then were segregated, but The Sheiks were professional musicians who played wherever they got paid.
When they recorded the song for Okeh records in 1930, it sold a million copies, becoming a Blues standard that has been covered in many other styles, such as Rock, Bluegrass and Western Swing.
Walter's lasting legacy is 'Sittin' on Top of the World';
The Sheiks recorded over 60 tracks in a five year career, but it co-incided with the worst years of the economic depression, so actual numbers of record sales were relatively low.
Their other biggest record 'Stop and Listen' only sold in the tens of thousands. By 1935, the band had broken up but Walter and Sam still played together occasionally as they each pursued the life of a 'wandering songster'.
Walter recorded with Leroy Carter and Mary Butler among others, and cut some solo records too before signing for Bluebird Records when he settled in Chicago in 1941.
Recommended Album
Walter is at the centre of all The Mississippi Sheiks work, and they have several decent compilations, but this collection centres on Walter's great voice and strong songwriting talents, with some help from Lonnie on fiddle and Sam on harp.
He was a popular act on the club scene there for many years but by the end of the decade, ill-health had forced Walter to give up performing.
However, the arrival of the Folk/Blues revival around 1960 drew him out of retirement, and he cut an album for the Riverside label.
Walter also played many concerts and Festivals with Sam Chatmon over the following decade. With his health issues worsening, Walter entered a Chicago nursing home in 1972, where he passed away three years later.