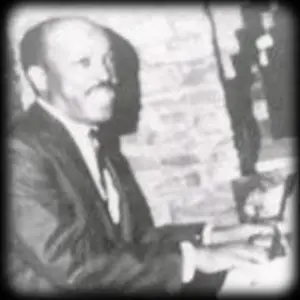 Archibald is not a well known figure outside New Orleans, but his style was a strong influence on younger players in the city like Fats Domino and Huey 'Piano' Smith.
The old Blues classic 'Stack-a-Lee' first came to national attention on Archibald's only hit record, but despite his lack of recording success, he had a long career playing his piano Blues as a club entertainer.
Leon T Gross was born in New Orleans in 1916 (or possibly 1912), and learned to play piano as a child.
His bold barrelhouse style was influenced by Burnell Santiago and Tuts Washington, and he made his living playing in local cat-houses, like so many of his Storyville predecessors. Leon was known as 'Archie Boy' at that time, and that nick-name later morphed into his better-known performing name of 'Archibald'.
When America joined WWII Leon was drafted, and when his tour of duty was over he returned to playing his strong, off-beat piano around his home town, and along with Professor Longhair, pioneered the city's distinctive sax and piano led R&B dance music.
Archbald's only hit made 'Stack-a-Lee' a popular classic;
In March 1950, Dave Bartholemew played trumpet and produced on Archibald's debut record for the Imperial label.
'Stack-a-Lee, Parts I and II' was a re-working of an old Blues ballad, as Archibald's melodious voice recounted the saga of a bar-room murder.
National sales took Archibald to No.10 in the R&B charts, and further sessions with the same crew later in 1950 led to two more releases, but they did not catch on outside New Orleans.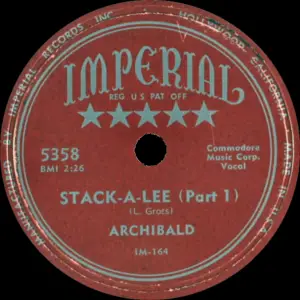 More tracks were recorded for Imperial in 1953, but again success eluded Archibald. He remained an attraction in his home town for the rest of his life, with long residencies at clubs like the Balloy, the Poodle Patio and the Court of Two Sisters.
At the age of 56, after a life-time of hard drinking, Archibald suffered a heart attack and passed away in 1973.