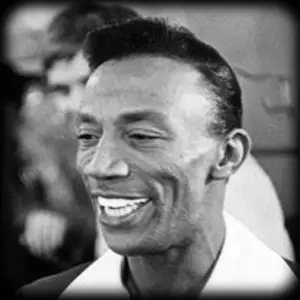 New Orleans music made the world dance after WWII, with Jump-Blues and sax and piano driven good-time backbeats, but in the 60s it was home to some real funky R&B. Lee Dorsey was its foremost practitioner, as his records crossed racial and national boundaries, and opened our ears to his soulful voice and clever songs.
Lee Dorsey was actually born in New Orleans in 1924, but his family relocated to Portland OR when Lee was just a kid. He joined the Navy during WWII, and when he returned to Portland, he took up boxing and had a good career as a light-heavyweight fighting under the name 'Kid Chocolate'.
In 1955, he retired from the ring and returned to his birthplace to open an auto body-shop, and in the evenings, he would sing in the bars and clubs on New Orleans' thriving R&B scene. Lee's rich, agile voice got him noticed, and he appeared on singles for several small labels in the late 50s with his own compositions. Strong regional sales and exposure on radio and juke-boxes prompted an appearance on the network TV show American Bandstand. When he signed for Fire Records and teamed up with
Allen Toussaint
, Lee's career really took off. Their co-written 'Ya Ya' went to No.1 in the R&B chart and made No. 7 in the Hot 100 in 1961. A couple of follow-ups sold well too, but all momentum was lost when Allen was drafted into the Army, so Lee went back to the body-shop for a while.
The first of many chart toppers, 'Ya Ya' from 1961;
Two years later Allen was back in the studio, producing and co-writing with Lee again for Amy Records. With studio band The Meters behind him, Lee stormed the charts with 'Ride Your Pony', 'Workin' in a Coalmine' and a string of other R&B hits that crossed over into the Hot 100, and provided him with several worldwide hits. 'Holy Cow', 'Everything I Do Now Gonna Be Funky' and 'Yes We Can' were big singles that provided a springboard for brisk album sales, as Lee was the prime torch-bearer for New Orleans R&B throughout the 60s. Lee's recording career was put on the back-burner for a while as Allen pursued solo success and massive funk hits with The Meters, so Lee took care of business and played local gigs. However, a guest spot on Southside Johnny's 1976 album put Lee back in the game. He opened touring shows for many Soul and R&B stars over the next few years, even providing the same service for The Clash! Lee's great songs were also covered by a wide range of bands in the 80s, from Devo to
Buckwheat Zydeco
, but he never had another big hit himself as Disco and New Wave overwhelmed his funky R&B style. He continued to perform occasionally, especially around his beloved New Orleans until he passed away there from emphysema in 1986.