The man who gave the world the Stratocaster, the Telecaster and the Precision Bass was a trained accountant who started out tinkering with electronics in his spare time. Growing up in Anaheim CA, the 13-year-old Clarence Leonidas (Leo) Fender was fascinated by the loud, home-made radio his uncle used at his car repair workshop, so young Leo learned how to make radio receivers. He graduated as an accountant, but when he was laid off for the second time in 1938, Leo borrowed $600 to set up his own radio repair business. Pretty soon he started building PA systems to rent and sell to local bands, and before long Leo was too busy to fix your radio.
Musicians began to ask Leo to make amplifiers for the new semi-acoustic guitars like the Gibson ES (Electro Spanish) that had started to appear in the hands of Charlie Christian and
T-Bone Walker
, and the Hawaiian lap-steel instruments heard in many country bands.
Rickenbacker
had been making the all-aluminium 'Frying Pan' guitar since 1932, and when one of their ex-employees, 'Doc' Kauffman came into Leo's store one day in the early 40s, the men hit it off immediately.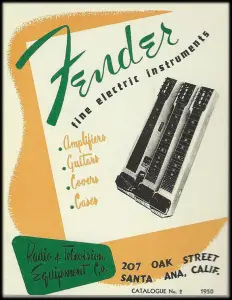 Together these two highly inventive minds set up K+F Manufacturing whose first product was an automatic record changer, and when they sold the design for $5,000, it gave them the capital to expand. Their first instruments were lap-steel guitars with a tremolo designed by 'Doc' and a patented pick-up that had a separate magnet for each string. By 1945, they had a range of six Hawaiian-style guitars and three amps in production, but Doc thought they were expanding too quickly and sold his share to Leo. In 1948, the Fender Company hired technician George Fullerton, who was to go on to design the distinctive Fender guitar shapes.
In the late 40s there was a great demand for a cheap, loud, durable guitar and both Les Paul and Paul Bigsby were working on all-electric, solid body designs. Fitting a pick-up to an acoustic guitar raised all sorts of feedback problems, and several engineers were working on plank-like adaptations of Hawaiian guitars, to be played in the upright 'Spanish' style. Leo was convinced that the answer was to get the electronics right, and the Fender prototype, the Esquire, had Leo's 'Combination Bridge and Pickup Assembly', allowing individual string height adjustment, and three metal 'saddles' that gave excellent tone and sustain. The first prototypes had a pine body with the distinctive cutaway shape and a 'bolt on' neck, but with a 'snakehead' headstock and tone controls set at an angle. When it went into production in 1950, the Esquire had an asymmetrical headstock and was offered with one or two pick-ups.
Fender's sales manager Don Randall began calling the twin pick-up version 'The Broadcaster', referencing the growth in popularity of music radio. In February 1951, Gretch complained that Fender were borrowing a name they had used for years on their established 'Broadkaster' banjos, so there was a short production run of 'Nocasters' before they came up with the 'Telecaster' name, referencing TV. Now made with a heavier ash body,  Fender's first iconic instrument was in full production by the end of 1951 and in great demand.
Also in 1951, Fender introduced the Precision Bass, a loud electric instrument with styling based on the Telecaster, but with an even more radical cutaway body. It had a long, 20-fret neck, a hefty single-coil pick-up and it delivered simply earth-moving performance. The Precision Bass could be ordered with a matching Bassman combo amp, boasting an impressive (for the day) 26w of power through a fifteen-inch speaker. Soon power output doubled, using four ten-inch speakers and later a 'piggy back' design was introduced, with separate amp and cabinet. The P-Bass became the tool of choice for generations of bass players, right up to the present day, as it is robust, easy to transport, stays in tune and most importantly, it is extremely LOUD.
Leo was always ready to listen to musicians' suggestions, and in designing the futuristic Stratocaster, he included several features to make the instrument more comfortable. The upper back edge was shaved to fit the body more closely, the front was chamfered to minimise contact with the inner forearm and there was a deep double cutaway. The guitar had a wider headstock, a 21-fret maple neck, three pick-ups, and a pivot bridge incorporating a tremelo arm, although some players specified a 'hard tail' with a fixed bridge. The 'Strat' was a sensation from the day it was launched in 1954. This third iconic Fender instrument became one of the best selling guitars ever made.
Fender have always offered a selection of amplifiers to go with their guitars, like the Bandmaster, Champ, Twin, DeLuxe and Princeton ranges, which were constantly updated for more power and effects.
By 1965, Leo was not in good health so he sold the company to CBS, although he retained a consultancy interest. Ten years later Leo was in better shape, so he formed the Music Man company to make the Sting Ray bass and a range of powerful amplifiers. In 1979, Leo joined with his friends George Fullerton and James Hyatt to set up G+L to produce upscale guitars with a range of innovative features. Leo was closely involved with his companies, despite several strokes and the onset of Parkinson's Disease. He passed away in Fullerton CA in 1991, aged 81, and he was posthumously awarded a 'Technical Grammy'.