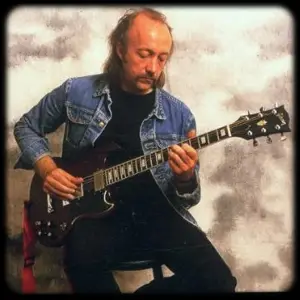 When the British Blues Boom was getting underway, Tony McPhee was one of the kids that followed Alexis Korner and Cyril Davies around and then decided to play the Blues themselves. He had learned his chops playing the Blues club circuit so thoroughly that his band The Groundhogs were asked to back John Lee Hooker on his British tour. From that point, Blues stars like John Lee, Albert King and Champion Jack Dupree left their side-men at home when they toured Europe, and booked The Groundhogs to back them instead. Tony's band were named after a Hooker song, 'Groundhog Blues', so when John Mayall's band could not play the final date of Hooker's 1964 tour, it must have seemed like a dream come true for Tony. John Lee was so impressed with their playing, he immediately booked the Groundhogs for his next British tour, and they cut a 'live in the studio' album together, 'Hooker and the Hogs' in 1965.
The Groundhogs back John Lee at the BBC in 1964;
Mike Vernon
's Blue Horizon label issued a couple of solo Groundhogs singles and one, 'Blue Guitar' was released in the USA. Vernon also billed Tony as 'TS' McPhee when he backed Champion Jack on his 'New Orleans to Chicago' album, along with
Peter Green
and
Eric Clapton
. In 1966, The Groundhogs went through a period of turmoil, turning to soul and psychedelic material and changing their name to Herbal Mixture. Tony continued to play the Blues, guesting with
Jo Ann Kelly
and The John Dummer Band, and produced the solo albums 'Me and The Devil' and 'I Asked for Water', which showed his soulful, inventive guitar lines alongside Jo Ann and other fine performers. With a versatile technique on slide, electric and acoustic guitar and a convincing Blues voice, Tony was one of those young British players who kept faith with the Blues, and played from the heart.
Tony plays 'Write Me a Few Short Lines' for the BBC;
The Groundhogs re-formed in 1968 as a power trio, touring again behind more Blues Legends, and their album 'Thank Christ for the Bomb' became a seminal British Blues-rock item. Further albums sold well as they explored more 'progressive' and 'hard-rock' lines in the mould set by Cream but, as the seventies moved on, The Groundhogs ran out of steam. Tony continued gigging as a solo artist until 1984, when he re-launched The Groundhogs with new personnel and they have been working ever since. They have a dedicated following in Europe; they remain popular on the Festival circuit and they issue the occasional album.
Tony suffered a stroke in 2009, which affected his vocal abilities and he passed away in June 2023.