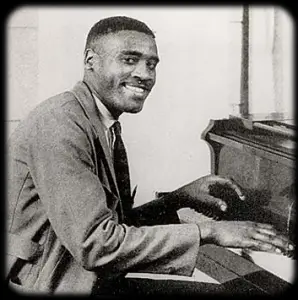 At a time when record companies were scouring the Delta for country Blues talent, Leroy Carr of Indianapolis came along with his sophisticated piano Blues that was rooted in an extremely different urban setting. His measured and melodic style and crooning vocals, especially in the company of his guitarist Scrapper Blackwell, introduced a new, more polished sound.
Born in Nashville in 1905, Leroy's family moved to Indianapolis when he was a child, but this self-taught teenager had itchy feet and set out for a life on the road.

He joined a circus and, after a spell in the Army, got involved in bootlegging back in his hometown. In Prohibition America there were 'speakeasies', juke-joints and shabeens everywhere, so Leroy's talents on piano found a ready audience. He also developed a fondness for the bottle at this time, and it is easy to imagine that there was always a glass on top of the piano as he wailed his blues into the night. Leroy was a fixture in the clubs of Indiana Avenue in the mid-20s, except for some jail time when his bootlegging activities were discovered. In 1928 Leroy teamed up with guitarist Scrapper Blackwell, firstly brewing hooch and then performing together. Their styles and personalities were so complimentary that they forged a long partnership. Scrapper's single-string guitar runs perfectly enhanced Leroy's understated piano figures, and the guitar/piano duet was soon to become a standard partnership in urban Blues. The Vocalion label released their track 'How Long, How Long?' in late 1928 and it was an instant hit, leading to a seven year recording career in which Leroy wrote and recorded almost 200 tracks.
'How Long, How Long' was the record that started it all for Leroy and Scrapper.
Leroy's songs were vivid personal statements about life love and booze, presented in a clear accent-free style that made him accessible in a way some Southern singers were not, making him a national success. 'Blues before Sunrise', 'Shady Lane Blues', 'Mean Mistreatin' Mama' and 'Prison Bound' were all hits, although actual sales numbers were pitifully small in the early 30s depression era. Nevertheless, the duo's popularity was never in doubt and they had an extremely busy gigging career. On some 1934 sessions the duo were joined by a young Josh White, and on Leroy's last recordings the following year he seems to have quarrelled with Scrapper and is heard solo on his last track 'Six Feet in the Ground'. The booze finally caught up with Leroy a few months later, just after his 30th Birthday, when he died from kidney failure.
Leroy and Scrapper perform 'Prison Bound';
In contrast to the barrel-house players of old, some of whom would beat the keyboard like a drum, Leroy's thoughtful, laid-back piano style on those numerous records influenced a whole generation of Blues pianists in the years before WWII. His death was the subject of several tribute records, including 'My Old Pal' by Scrapper Blackwell;
Bumble-Bee Slim
's 'Death of Leroy Carr' and 'Leroy Carr's Blues' by Bill Gaither, who was billed for the rest of his life as 'Leroy's Buddy' in homage to his hero.