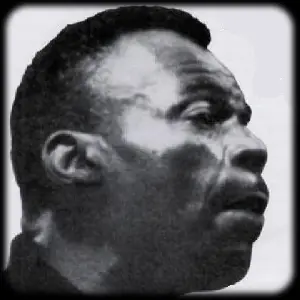 The Blues is a cruel mistress, and a man who sold millions of records can disappear into the footnotes of Blues history. Bumble Bee Slim was certainly not a one-hit-wonder, but he is not well remembered today. He came from the Piedmont area to make a name for himself in Chicago, as country Blues transformed into an urban music, and then took off to the West Coast in his later years. Slim's easy-going, often humorous vocals and versatile guitar work are all but lost to modern listeners, but there was a time when he was on the cutting edge.
Amos Easton was born in Brunswick GA in 1905, and he soon picked up the Piedmont regional style of guitar playing that would serve him well throughout his wanderings. Joining a travelling tent show as a teenager, Amos worked all over the south in circuses and vaudeville acts until he made his home in Indianapolis in the late 20s. Local men
Leroy Carr
and
Scrapper Blackwell
were probably the nation's most popular Blues act at the time and Amos incorporated a lot of Scrapper's guitar figures into his playing, but in imitating Leroy's laconic vocal style, he gained a laid-back delivery that he was to use in all his recorded work. Arriving in Chicago in 1931, Amos made the acquaintance of
Tampa Red
,
Memphis Minnie
and
Big Bill Broonzy
, and soon his first records began appearing on the Bluebird label, with his new friends backing him up. His neat guitar work and great voice got him session work backing other artists on
Lester Melrose
's roster of Bluebird stars, although his own records were then released on Vocalion, for some reason.
Superb playing and singing on 'I Keep Drinkin' to Drive My Blues Away';
Now known as Bumble Bee Slim, probably after a Memphis Minnie song, he was a prolific recording artist throughout the 30s, cutting over 150 tracks, and often paired with pianists Black Bob or Cripple Clarence Lofton. The mid-30s ensemble style developed by experienced groups of studio musicians laid much of the groundwork for the modern Blues Band. As a best selling artist, Slim would have his pick of the top side-men, typically playing with
Albert Ammons
on piano and
Lonnie Johnson
on guitar and he chose some quality lyrics too, with his song 'Someday Things Will be Breaking My Way' which was an adaptation of 'Sitting On Top of the World'. Despite being one of the most recorded Bluesmen in town, Slim moved back to Georgia in the late 30s. He re-surfaced on the West Coast in the mid-40s and resumed recording on the Specialty and Pacific Jazz labels in Los Angeles. Slim's records did not sell well, despite his distinctive laid-back vocals being as strong as ever, but his style was perhaps considered dated. He continued to work on the California club scene and passed away in 1968, playing his acoustic Blues into his sunset years.