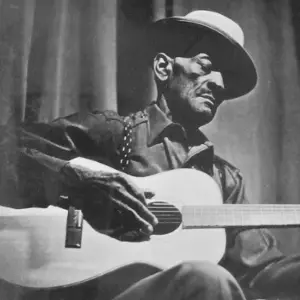 Mance Lipscomb was more than just a Blues singer. He could be more accurately be classed as a songster in the Leadbelly tradition, with a wide range of folk songs, spirituals, ragtime tunes and children's songs. He played them in a variety of styles and keys, often using slide-guitar but equally at home with a delicate fingerpicking technique. Mance's vast repertoire, built up over many decades, was a major discovery of the late 50s Folk/Blues revival.
Born in 1895, Mance spent the first 65 years of his life as a sharecropper, farming a small piece of land in Navasoto, Texas. His father, an emancipated slave, taught Mance to play the fiddle and he later taught himself guitar. Mance spent many years playing at weekends for dances and parties where his wide repertoire made him a popular local performer. In 1960,
Chris Strachwitz
recorded Mance on some mobile equipment near his home, and the resulting album, 'Mance Lipscomb: Texas Sharecropper and Songster' was the first release on Chris's Arhoolie label. The 1962 documentary film 'The Blues' featured Mance and he was to appear in several more films over the years.
When Mance was in California playing the Folk/Blues circuit in 1964, he cut a second album 'Songster Vol.2' for Arhoolie where he was able to display an even wider range of music. Club and Festival appearances kept Mance busy during the 60s and he recorded several more albums for Arhoolie, but in 1970 he cut 'Trouble in Mind' for the mainstream Reprise label. Mance retired in 1974 when he was almost 80 years old, and he passed away two years later.