From Jerry Lee Lewis to Lynyrd Skynyrd to the Derek Trucks Band, blues-flavored southern rock has earned a special place in the world of American popular music. And the sensational Marcus King Band seem likely candidates to someday garner the praise and popularity of all of this subgenre's successors.
Chicken fried blues/rock
But things are complicated with this masterfully skilled group of South Carolinians. It's not always clear if they should be regarded as a blues-tinged rock band or a rock-tinged blues band. And is if the picture isn't already sufficiently muddled, there's a lovely touch in King's midrange vocals – also evident in the playing of his band mates – that recall the very best of soul.
So which is it? Is the Marcus King Band a soulful group of southerners who play a unique band of blues/rock or a rocking group of southerners who play a unique brand of blues/soul? The best thing about these guys is that you don't have to choose. Everything's in there. Like a meal that boasts multiple spices, The Marcus King Band sounds like nothing but itself.
Young blues master
The most startling discovery when listening to a Marcus King Band song for the first time is that the gravelly tenor heard above the band's unmistakable sound belongs not to a time-tested veteran song stylist, but to a newcomer who has yet to turn twenty.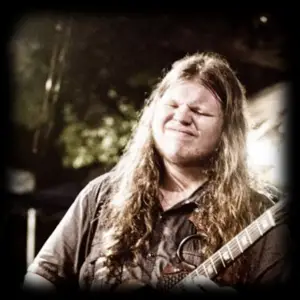 And if King's soul-rattling voice isn't improbable enough, there is also his mastery of the guitar to consider. The young stunner combines the gentle touch of B.B. King with the gut-splitting rawness of a Robert Johnson. The blown-away listener is left dazzled and wondering how much more power this remarkable blues man will gain with age.
Although no longer young enough to qualify for such an exalted title, King comes from a long line of child prodigies in the blues. Guitar virtuoso Joe Bonamassa opened for B.B. King as a thirteen-year-old. Derek Trucks started with The Allman Brothers Band at eleven. And let's not forgot that Marcus' namesake B.B. King had a youthful start of his own – his iconic initials, after all, stand for Blues Boy.
"I guess I knew I was born to play guitar when I was seven," Marcus says.  "That's when I got my first electric guitar, and while all the other kids were outside playing, I'd be inside on that guitar. When I got in trouble in school, my daddy said I could choose between a spanking and getting my guitar taken away for a week. I took the spanking." A quick listen to King's mastery of the fret board reveals that he made a wise – if painful – choice.
The gifted youngster wasted little time in his rise to success. By age eleven he was leading his own band. From this auspicious beginning rose a young man sure to become a mainstay in the realm of contemporary blues.
The Path to Soul Insight
Those who believe in destiny could probably see at an early stage in the young King's life that his unmistakable southern-fried sound would need to be recorded for posterity. To keep those blues to himself would be downright selfish.
The first step toward realizing this dream was assembling the collection of musicians that would later evolve into The Marcus King Band.
With Jack Ryan and Stephen Campbell holding down drums and bass duty respectfully and Keyboardist Matt Jennings rounding out the rhythm section, the core of the band was set.
But what soulful southern blues/rock band would be complete without the nuanced spicing of a horn section? Enter Justin "JJ" Johnson on trumpet and trombone as well as Dean Mitchell on Saxophone. Meanwhile, the band's youthful front man served triple duty. Not only did he handle guitar and lead vocals. But he also produced their stunning debut. The album's title is Soul Insight and it is a breathtaking introduction to a bold new talent in the blues scene and his able sidemen.