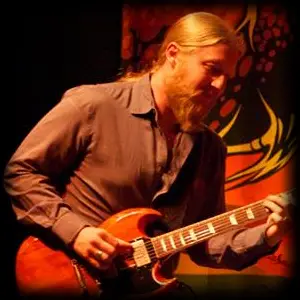 The Tedeschi Trucks Band is one of the most exciting talents to emerge onto the Blues scene in the last decade, and their success shows the continuing durability and world-wide appeal of our music. Derek Trucks is a slide-guitar player of great power and sensitivity, and his wife Susan Tedeschi is a passionate singer who is capable of ripping out a snarling Blues riff of her own. Derek had a strong career leading his own band and as a member of the Allman Brothers, but since they have committed to focusing their joint efforts into a single band, the couple have put together a truly formidable Blues-Rock vehicle.
Derek Trucks was born in Jacksonville FL in 1979, and by the time he was 9 years old he was playing a guitar his Mom bought him at a garage sale. Perhaps he was inspired by his uncle Butch Trucks, the drummer with The Allman Brothers, and Derek credits
Duane Allman
and
Elmore James
as his main influences. A few years later, Derek had played with
Buddy Guy
, been on tour with Thunderhawk, and sat in many times with The Allmans. By 1996, the teenager had formed The Derek Trucks Band and a self-named album was released the following year. After many guest appearances with The Allmans, Derek became a full member in 1999, while gigging and releasing albums with his own band enhanced his reputation. Also that year, Susan Tedeschi's band supported The Allmans on the road, and two years later the couple married, setting up a home and a studio in Jacksonville, and having a couple of kids.
Derek's band play 'Blind, Crippled and Crazy' in 2006.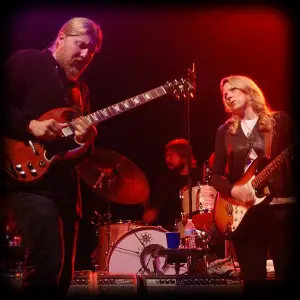 In 2006, a collaboration with
Eric Clapton
's 'Road to Escondito' project with
JJ Cale
,
Billy Preston
and
Taj Mahal
, led to Derek playing the 2007 Crossroads Guitar Festival, where his wife Susan and
Johnny Winter
were his guests. Derek and Susan combined their resources in a band with horns, The Soul Stew Revival, as well as running their own bands, and also The Allmans in Derek's case. They were part of the memorable evening at The White House  when The Prez sang 'Sweet Home Chicago'. Two years later they decided to concentrate more on writing and performing their own material, so they pooled their resources again and the 11-piece Tedeschi Trucks Band was the result. The 2010 Crossroads Festival in Chicago gave their new venture a great platform, and their album 'Revelator' won a Grammy for Best Blues Album. A live album 'Everybody's Talkin' and the 2013 release 'Made Up Mind' sold well all over the world, as Blues fans recognised the quality of a great new band.
 Derek and Susan perform one of their own songs;
For several years Tedeshi Trucks have hosted a residency at New York's Beacon Theatre, and they have a busy touring schedule, but Derek found time to play the 2013 Crossroads event at Madison Square Gardens with The Allman Brothers, although it seems 2014 was his last year with them. The Tedeschi Trucks Band play the Millennium Dome Arena as part of the 2015 London Blues Festival.