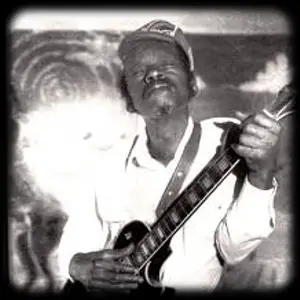 In the juke-joints of Northern Mississippi, up in the hills above the Delta, people played a raw-boned, good-time Blues which lay almost undiscovered until the 90s, when labels like Fat Possum and High Water began to record the fantastic, high energy Blues player they found in the small towns up there.
Paul 'Wine' Jones was one of the artists that took this distinctive Blues into the new millennium, but he never gained the recognition that some of his contemporaries did.
Paul was born in Flora MS in 1946, and learned guitar by listening to his Dad playing, so by the age of four he could hold a tune. He worked as a farm hand, who only played for fun at house-parties, until he teamed up with local man
James 'Son' Thomas
to play in juke-joints. In 1971, Paul moved to Belzoni to work as a welder, and he lived there for the rest of his life. Some 'hill country Blues' had been recorded in the 70s and 80s, but it was
Robert Palmer
's 1990 film 'Deep Blues' that brought it into the spotlight. Robert produced albums by
R L Burnside
and
Junior Kimbrough
for the Fat Possum label, and Dr. Dave Evans of the University of Memphis released
Jessie Mae Hemphill
's records for the High Water label.
In 1995, Paul recorded his first album 'Mule' for Robert at Fat Possum, where he was joined by
Jack 'Oil Man' Johnson
and drummer Sam Carr. He joined The Mississippi Juke-Joint Caravan to take this unique style of Blues around the country, and in 1999 he recorded a follow-up album 'Pucker Up, Buttercup'. Sadly, Paul passed away from cancer at the age of 59.
Paul plays some juke-joint Blues;