Like his friend and mentor, Mississippi Fred McDowell, RL Burnside was a farmer from the hill country of north-east Mississippi. He could play his rhythmic and often lyrical slide-guitar very much in the style of his long time neighbour Fred, and like him RL was a late entrant into the world of recording and touring, but his signature sound was a loud, hypnotic throbbing rather than a sweet melody. Despite the primitive sound of his more distorted, juke-joint boogies, RL was no throwback, as he introduced the Blues to much younger garage and techno audiences in the 90s, and he even did a bit of 'rapping' on his later recordings!

Born in Oxford MS in 1926 and living his whole life in that district, Robert Lee Burnside supported his 13 children by farming and fishing. He played music all his life, sometimes teaming up with men like Rice 'Sonny Boy II' Williamson and Robert Jr. Lockwood on his rambles around the Delta. During the 50s, he served jail-time for murdering a man over a game of Craps, and in his defence he was said to have declared, "I shot him in the head and I shot him in the chest, but whether he died or not…. that was between him and God." It seems his boss was soon missing his best tractor driver and got him out of Parchman Farm six months later.
Delta Blues was a kind of back-porch home entertainment before the world took an interest in the late 60s, and the closest RL came to public notice was when musicologist George Mitchell recorded some of his songs on a field trip in 1967, which emerged later on an Arhoolie album, 'Mississippi Blues Vol.2'. Big Joe Williams turned up with a film crew a couple of years later, and in 1979 Dave Evans from the University of Memphis, recorded RL's family band running through some traditional Blues and some surprising versions of urban Blues classics but RL remained a hidden delight. In the late 80s, RL was asked to tour Europe with the American Blues Festival, and in Holland he cut 16 tracks of pure acoustic solo Blues that showed his superb slide technique.
Typical juke-joint Blues from RL;
Back home in Holly Springs, RL would play in the juke-joint next door which was owned by his friend and fellow guitarist Junior Kimbrough. Both men featured in Robert Palmer's documentary film 'Deep Blues' in 1991 and for RL, that was the start of a productive recording career. He signed for the local Fat Possum label and hit the studio with his band; his son Dwayne played bass, with son-in-law Calvin Jackson on drums and guitarist Kenny Brown. They put down some boisterous juke-joint Blues that showed RL's tasteful playing and this material was released on the albums 'Bad Luck City' and 'Too Bad Jim'. In 1996, RL teamed up with The Jon Spencer Blues Explosion to record the high-energy album 'A Ass Pocket Full of Whisky' that irritated purists and delighted a whole new indie-garage audience.
Modern sounds, but archaic style from 'Come On In';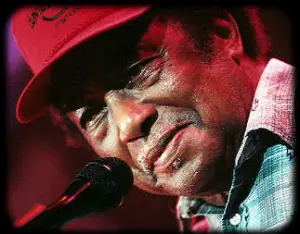 The blistering electric Blues of the 1997 album 'Mr. Wizard' was followed the next year by the experimental techno-Blues of 'Come On In' with it's loops and samples. The 73-year-old continued to use some of these tricks on his next album 'Wish I Was in Heaven Sitting Down', where a wide range of classic Blues songs from Muddy Waters, John Lee Hooker and Lightnin' Hopkins among others, are given a radical update. RL's original works were beginning to appear as re-issues, as Blues labels searched their back catalogues to make up compilation CDs.
Heart surgery slowed RL down after 1999 but he continued to tour and 'Burnside on Burnside' was a live recording made at his 2001 West coast concerts. Backed only by Kenny Brown and grandson
Cedric
on drums, this disc documents the good humoured, laid-back atmosphere as RL 'toasts' his poems and narratives between some of the old-timer's favourite Blues. RL's heart troubles caught up with him in 2005.