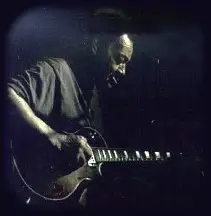 David 'Junior' Kimbrough was over 60 years of age when he made an impact with his album 'All Night Long' in 1992, where his hard-driving juke-joint style showed that down-home country Blues can still rock the room.
Junior's archaic style has the same hypnotic pulse as John Lee Hooker's boogies and employs a complex poly-rhythmic timing, fretting the bass strings with the thumb, that harks back to Africa.
Born in the hill country of north Mississippi, Junior lived his whole life around Marshall County.
Mississippi Fred McDowell and RL Burnside were influential neighbours and Junior and RL were firm friends who often played together, sometimes with other family members in their bands.
Charlie Feathers, the rockabilly star, was another friend who quotes Junior as a major influence, and they recorded together in 1967.
Junior also recorded Lowell Fulson's 'Tramp' for Goldwax in 1967, but it didn't help that the label mis-spelled it as 'Tram' by 'Jr. Kimbell'.
Further recordings for small labels in the 70s and 80s did nothing outside the locality, but Junior never stopped gigging. When writer Robert Palmer made his film 'Deep Blues' in 1990, he caught Junior and RL Burnside playing in a juke-joint, showing that the Blues wasn't about bright lights and shiny suits.
Palmer produced Junior's first major album 'All Night Long' for the local Fat Possum label, and Rolling Stone magazine voted it Most Important Blues Album of the Decade.
Junior toured the States and Europe, recording a second album, 'Sad Days and Lonely Nights' and he opened a tour for Iggy Pop!
He also opened his very own juke-joint, 'Juniors Joint', in Chulahoma MS. Shortly after Fat Possum issued 'Most Things Haven't Worked Out', Junior's third album, he was involved in an auto accident, the consequences of which revealed some serious underlying health issues.
Junior took it easy, leaving his sons David Jr. and Kenny (he had 36? children!) to run the band and business. In 1998, Junior died at home from a heart attack.
Recommended Album
Junior completely re-imagined the Blues as a cross between voodoo madness and ass-shaking macho boogie!
Modern Mississippi juke-joint boogie;