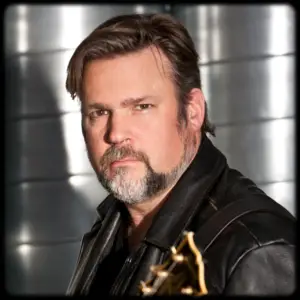 Sid Whelan was born and bred in New York City, and after a lifetime of playing Blues, Country and World music, he has recorded the first part of his Americana Trilogy, 'Flood Waters Rising'. Sid was introduced to the Blues by his Dad, a passionate devotee of New Orleans jazz and traditional Blues, who took him to see an Alberta Hunter concert and further gigs covering a wide range of music including Art Hodes and The Preservation Hall Jazz Band. While at school in New York and later near Boston, he took piano lessons and jazz improv class, as well as being involved in barberhop quartet and glee club, all of which taught him some basic harmony.
Like many kids first exploring the Blues as a result of listening to rock music, Sid sought out the
Robert Johnson
albums issued by Columbia and bought others by
John Lee Hooker
and
John Mayall
, while listening to bands on the local Boston club scene. Taking up his guitar, Sid's first band played a lot of Blues songs and their harp player was a student of local legend Mike Turk. During the '90's Sid played a lot of gigs around the Eastern Seaboard mostly backing African singers, and often accompanied by his wife Lisa, a South-Side Chicago girl, on backing vocals. They later took a break from playing to focus on family affairs, kids and touring being slightly incompatible.
In 2012, Sid's niece Lora-Faye persuaded him to sit in with her band when their guitarist couldn't make a gig, and he enjoyed the experience so much, he started writing again.
Most of the tracks on his album 'Flood Waters Rising' are the result of that process, addressing contemporary political and social concerns. The title track is concerned with global warming, and other American phenomena like Televangelists and the Gun Lobby come in for some criticism. In his writing, Sid looked to 'twist the form' of standard Blues structures, to allow some fluidity and he wanted a 'live' feel for his debut album, so he sought out John Kilgore's Studio for it's 'modern vintage' ethos, and the end result has very little overdubbing. Assisted by co-producer Lora-Faye and some of the musicians he played with in the '90's, Sid plays his delicate guitar figures in a style that ranges from sweet acoustic-style Blues to something that could almost be Tex-Mex.
There are a couple of cover versions, 'Sittin' On Top of the World' and a Fred McDowell tune with Sid's own lyric, 'Frisco Lines', which he wrote back in the 90s, but the other material is new and original. Sid has also written some songs for a Country album provisionally called 'Grandpa's Rye', and a developing Rock'n'Roll project will complete his vision of a trio of albums in tribute to the forms that have shaped modern American music.