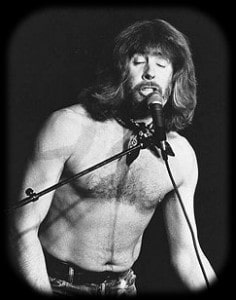 John Mayall played a crucial role in the development of British music in the 60's that re-vitalised the Blues from its enclaves in the Black American community and gave it to everybody. As leader of the Bluesbreakers, his revolving door policy gave dozens of young players a chance to step into the spotlight. Mayall himself is a solid rather than spectacular performer as a vocalist, pianist, keyboard, harp and guitar player, but he has stayed on the road for more than half a century and released over 60 albums. John's real quality lies in his unwavering Blues sensibility which allowed him to recognise the talents of young players and, using his clear vision and devotion, guide them down the road that started in the Delta and spread all over the world.

Born near Manchester in 1933, John was part of the generation that was conscripted into the Army in the Korean War years. Back in Manchester he went to Art School and started a band, The Powerhouse Four. John's father was a guitarist and his extensive blues and jazz record collection provided fertile seeds for the young man's musical growth. In 1962,
Alexis Korner
asked John to move to London where the
Blues Boom
was starting to fizz. With hundreds of talented young musicians recognising that something special was happening, there was a certain mix-and-match quality to the bands that emerged on the growing club circuit. John formed The Bluesbreakers in 1963, but that band had at least 15 line-ups in the next two years.
Jack Bruce
and Mick Fleetwood were passing members, but John McVie's bass playing became a fixture, and  versions of The Bluesbreakers backed
John Lee Hooker
,
T-Bone Walker
and
Sonny Boy Williamson
on their UK tours.
John's keyboards and vocals, backed by young Eric;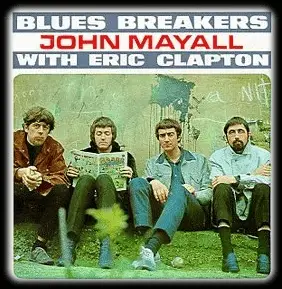 In late 1965 The Bluesbreakers had lost their record deal but gained a remarkable young guitarist in Eric Clapton and, swiftly re-signed, the Bluesbreakers 'Beano' album was a massive success. In the middle of 1966 Eric left to form 'Cream' and his place was filled by the brooding talent of Peter Green. The resulting 'Hard Road' album contained the devastating instrumental 'Supernatural' that pre-figured Green's later work and was much imitated by, among hundreds of others, Carlos Santana. Green and McVie left to join Mick Fleetwood in the blues-band incarnation known as 'Peter Green's Fleetwood Mac'.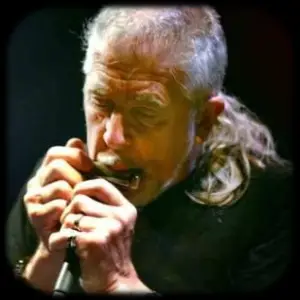 Undaunted, Mayall continued to pick up talented players. Green's replacement was future Rolling Stone, Mick Taylor, and Andy Frazer, later of Free, and ace drummer Keef Hartley were just a few graduates of the University of The Bluesbreakers. In 1967 Mayall cut some tracks with Paul Butterfield in a Transatlantic tribute to men like Junior Wells and Lionel Hampton. The 'Bare Wires' album of 1968 showed some jazz influences, with liberal use of the horn section, but the same year 'Blues from Laurel Canyon' emerged with Mayall and Taylor backed only by bass and drums. Even drums were omitted from the live album 'Turning Point', recorded just after Taylor went to join The Stones, on a free-flowing but reflective album.
In 1970, Mayall formed his first all-American band including ex-Canned Heat players
Harvey Mandel
and
Larry Taylor
, and reaching his personal 'turning point' by concentrating on the US market. A few years later he re-located to LA which is still his base today. Several albums explored jazz-blues fusions with little critical or commercial success, but in 1982 Mayall went on a world tour with three old Bluesbreakers Mick Taylor, John McVie and drummer Colin Allen. 1985 brought a stripped down band featuring the twin lead guitars of
Coco Montoya
and
Walter Trout
, recording 'Live Behind the Iron Curtain' in Hungary and then the studio album 'Chicago Line'.
Excellent live version of 'Chicago Line';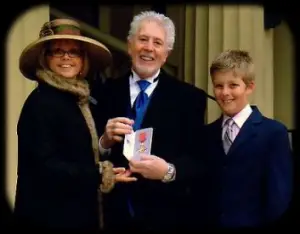 This return to form was extended when 'Wake Up Call' took Mayall's recording career past the 40 year mark in 1993 and featured Buddy Guy, Mavis Staples and old-boy Mick Taylor. Other collaborations have included recordings with John Lee Hooker and Otis Rush, as well as the Cream of contemporary blues-rock music. The 2002 album 'Stories' entered the Blues charts at No1. To celebrate his 70th birthday Mayall played a show for the charity UNICEF with Eric Clapton and Chris Barber, and in 2005 he was invested with the OBE. "It's the only major award I've ever received!", he commented. Perhaps The Queen should name him as the 'Duke of Blues'.