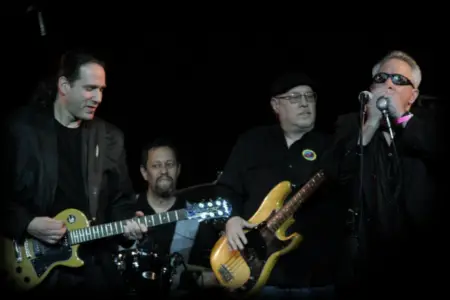 Don't let the dangerous name fool you. Bad Influence isn't a blues combo your parents would be worried about you seeing – unless your folks have a problem with you having a good time. Bad Influence is a party band, the kind you might find playing a frat party or down the street at a backyard barbecue that seems to be having way too much fun. These guys are a good time blues band in a world that needs to be reminded that the blues can serve such a purpose.
Guitarist Mike Tash confirms this, saying of some younger fans, "There's a lot of people who have never heard this kind of music." By this kind of music, he means upbeat, danceable blues. Party music made by guys who are having as much fun playing it as those listening.
Roger Edsall (who handles harmonica and guitar duties) adds, "They get the wrong impression. They think blues is a sad, cry-in-your beer kind of thing. They find out it's about drinking and sex."
Hailing from Germantown Maryland, the bands first formation took place in 1988 consisting of Mike Tash and a friend named Rick Haveland. Tash had spent some time under the tutelage of Steve Jacobs.
After a few changes in personnel, Bad Influence would make a few changes to solidify their lineup in 1993 to include the aforementioned Tash and Edsall as well as bass player Bob Mallardi and drummer David Thaler. With the lineup complete, they have since spent nearly three decades delighting a wide range of audiences with their patented laid-back approach to the blues.
How laid-back are Bad Influence? Listen to the band's Roger Edsell: "We just kind of do our own thing. It's not like a wedding band. We just do what we want. And if people like it, they like it."

It seems people like it. The band estimates they average 100 gigs a year, including such diverse locales as The Kennedy Center, The Western Maryland Blues Fest and as the headline performer at the Epiphone Guitars 140th Anniversary Celebration in Nashville in 2014.
And if the band's busy road schedule seems unlikely given their laid-back attitude, the same can be said of their musical pedigree. Guitarist Mike Tash, for example, has long enjoyed a strong reputation as one of the best on the East Coast, having cut his teeth under the tutelage of legendary DC-area blues master Steve Jacobs.
Similarly Roger Edsall is widely revered for his work on the harp and has played with such notables as
Jimmy Thackery
,
Kenny Neal
and
Kim Wilson.
Bob Mallardi's skills on bass have earned him endorsement deals from GHS strings and Harke amplifiers. And Drummer David Thaler, far from the stereotype of the skin-bashing blues drummer is actually classically trained as a timpani player and has played in various orchestras.
Musical acumen aside, what sets Bad Influence apart is their ability to create infectiously fun blues. As front Mike Tash puts it, "The most important thing is that everybody has fun — the audience and us."