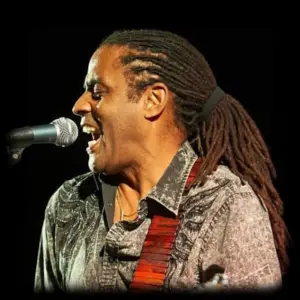 When you're born in New Orleans, the son of Buddy Guy's harp player, and then the great Slim Harpo hands you a battered 'Mississippi Saxophone' when you are just three years old, there are good odds that you will end up playing the Blues. Kenny Neal rose to the challenge, playing harp, bass and scintillating guitar to become a modern standard-bearer for Swamp-Blues, and extending his range to Soul and Chicago Blues to become a consumate performer.
The Neals are a tallented family: Dad Raful was a mainstay of the Baton Rouge club scene alongside Slim and Buddy; 'Lil Ray' (Raful Jr.) played guitar for
Bobby 'Blue' Bland
and
Little Milton
; sister Jackie made four great Soul albums before her untimely death; brothers Frederick and Darnell have been mainstays of Kenny's band, and Noel played bass for many years in
James Cotton
's band and is a respected Chicago session musician. With that kind of pedigree, Kenny had to be pretty good just to get noticed in the family, let alone in the music business! At the age of 13, he learned guitar and played in his dad's band, and four years later, Kenny was playing bass for Buddy Guy. Several of the Neal brothers relocated to Toronto, Canada in the early 80s to polish their chops, and in 1987 Kenny returned to The States to cut his first album of Southern Blues, with
Lucky Peterson
on keyboards. 'Bio on the Bayou' anounced the arrival of a new Swamp Blues champion, and
Alligator Records
picked up on Kenny's rough-edged vocals and confident guitar lines, re-issuing the album as 'Big News from Baton Rouge', and quickly following it with a new release, 'Devil Child'.
Kenny and his band rock out on tour in the Caribbean;
When
Taj Mahal
wrote the music for a Broadway production of Langston Hughes' play 'Mule Bone' in 1991, Kenny was invited to play Jim, the lead character, a rôle also played by
Guy Davis
. Three further albums on the Alligator label established Kenny as a solid Swamp artist, and when he switched to Telarc for 'Blues Fallin' Down Like Rain' in 1998, he gave some Chicago classics a Southern workout. In 2003, Kenny teamed up with harp player
Billy Branch
to record 'Easy Meeting' in France, which Alligator repackaged as 'Double Take' for American release. Kenny's next project was a tribute to his recently deceased father Raful, and his inspirational friend Slim Harpo. Regular album releases, Blues Awards, visits to Africa as a cultural representative of the US Govt., extensive touring dates at home and abroad and a seemingly inexhaustable stream of new material show that Southern Blues in in safe hands with Kenny.