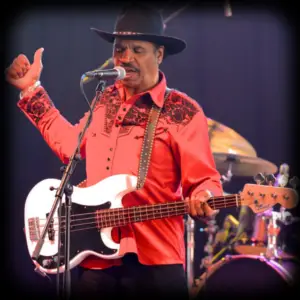 Having blues legend Freddie King as an older brother was a great way into a successful life as a blues musician. But for Benny Turner, the path to the top has contained numerous twists and turns before satisfaction was attainable. In other words, his life has been a lot like a blues song.
Coming from a musical family was a huge lift for young Benny. If you're a blues fan, you very probably know a great deal about Benny's big brother Freddie King, but interestingly enough, the passion and instruction needed to become a guitar player came not from Freddie but from their mother Ella Mae (King) Turner. Her brothers Leon and Leonard King also played a role in providing musical guidance.
But while Freddie's ambition as a budding star took root early, young Benny was content to be a fan of the music and the older brother he loved. A radio show called "In the Groove" broadcast to their hometown of Glimmer Texas helped both boys develop a fondness for the music by introducing them to such giants as
Charles Brown
, Hank Williams,
T-Bone Walker
and
Louis Jordan
.
In the 50s, a family move to Chicago expanded their musical vocabulary even more and provided them both with opportunities to cut their teeth in local bands – both on guitar. But fate intervened and complicated matters. When Freddie's bass player, Robert Elem was unavailable for a gig at the Squeeze Club, a last minute replacement was needed. And who better to turn to than his trusted younger brother, Benny? Benny came through and won more than the gratitude of his big brother. He won himself a job on a previously unfamiliar instrument. Soon he was playing bass in his brother's band at regular gigs at The Squeeze Club as well as Walton's Corner.

His work at Walton's Corner led to another key turning point in his career on this new instrument. He met R & B singer Dee Clark and was promptly invited to become a part of her road band. This opportunity brought Benny to such enormous venues as New York's Apollo Theater, the Uptown Theater in Philadelphia and the Chicago's own Regal Theater.
Next came a stint with the renown gospel band the Soul Stirrers. And with this new job, came controversy.
The electric bass was not fully accepted in the world of gospel, but band manager Jesse Farley, impressed by young Benny's skill, insisted on his inclusion. Many feel this influenced the musical direction of gospel music to this day.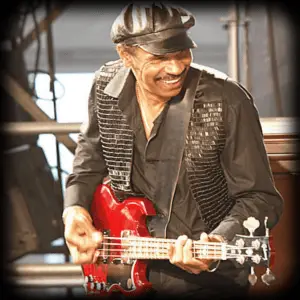 The 60s and 70s brought brothers Freddie and Benny back into the same outfit. For Benny this meant playing popular festivals and opening for such huge acts as Dionne Warwick, B.B. King and Eric Clapton. But in 1976 tragedy struck. Benny's older brother, mentor, best friend and band mate died at 42.
The next few years were full of heartache, with Benny living a reclusive life, away from music and away from the fans who had come to love him.
When approached by another Chicago blues legend, Mighty Joe Young, Benny seized the opportunity to return to the world of the blues. The years in Young's band were wonderful, giving Benny a chance to get back to the world he'd fallen in love with as a child.
After nearly a decade with Benny, Young's poor health forced him to cease touring. Then came yet another key twist in the blues life of Benny Turner: A solo career.
Exploring his depth as a vocalist, songwriter, arranger and, of course, bass player, his solo recordings have added to his extraordinary legacy in the blues world. And given the long and winding path of his life, it should surprise no one that his songs have included an album called "A Tribute to my Brother Freddie King," as well as a standard called "When She's Gone," dedicated to Ella Mae King Turner, the woman who literally and figuratively gave birth to a family legacy in the blues.