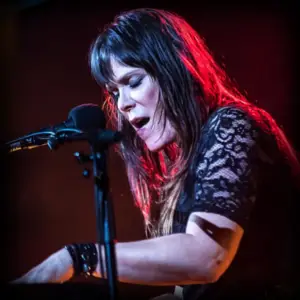 Today's blues singers are often saddled with the unfortunate title of 'pretenders to the throne,' which is to say it is presumed they didn't earn their blues the old-fashioned way, paying their dues with decades of harsh, itinerant lives, picking cotton, eking out meager livings and enduring an endless barrage of abuse.
Barely in her forties, country-tinged blues belter Beth Hart can sadly say she's earned the right to sing the blues. She's endured heartache, tragedy and her share of battles with demons: At twenty, Hart's older sister passed away of complications from the AIDS virus. And in addition to the usual menu of failed relationships and regretted choices, she's also had to rebound from drug and alcohol addiction as well as a diagnosis of bi-polar disorder.
And while pain itself is no guarantee to a respectable entry into the blues world, pain combined with breathtaking talent and a true love of the art form, as exemplified in Hart's case, can give you a voice in the blues world like no other.
Although the Los Angeles born and bred crooner's life hardly sounds like a fairly tale, her initiation into a career in the music business could just as well have co-stared Cinderella.
Seen performing on the streets by a random passerby – who happened to be talent manager David Wolff – she was given a record deal with Atlantic in weeks.
Beth Hart is one of the most underrated blues singers out there. In this video, she's playing LA Song live and it's amazing.
While her first two albums, 1993's Beth Hart and The Ocean of Souls and 1998's Immortal, made little impact, her third album Screamin' for My Supper boasted a track that changed everything.
1999's single LA Song (Out of this Town) carved out Hart's identity as a sensitive songwriter with a rich voice etched with just enough whiskey and pain to make the listener feel every word.
With a tale so laced with pathos and agony and beauty it should surprise no one that LA Song found resonance with a dizzying array of fans.
Reaching the top of the charts in New Zealand, the song also climbed into the top five on the US adult contemporary charts.
Recommended Album
Bang Bang Boom Boom starts with a gentle but dark piano figure, ominously spelling out the menace to soon follow. The moods explored on this album vary wildly but every note that escapes from Hart's lips is authentic. And her backing band somehow keeps pace with her manic shifts in temperament and tempo.
Few blues albums offer such a lovely balance of the emotions deeply and courageously explored. But for all the release's variety it is, mostly a victorious affair. Even the darker songs feature the strong, enduring voice of a survivor, ready to emerge from one crisis and bravely face another.
Bang Bang Boom Boom
With five more albums under belt, Hart can now be considered a certified veteran of the blues. And yet there's a warm and wonderful sense of freshness in her delivery that an eighteen year-old would envy, a childlike sense of discover that seems to overwhelm the singer when she finds a passage she relates to.
Even when delivering songs composed by others, she wraps her sultry voice around every note, making it her own. Perhaps the best example of this is her live rendition of the blues classic "I'd Rather Go Blind." The tune was written by an American composer named Ellington Jordon.
But for those experiencing this stunning version, the lyrics seems to leap straight from Beth Hart's soul.
Beth Hart here to show you how to play the blues like a pro.
In 2011 Hart found a frequent and well-matched collaborator in seasoned bluesman Joe Bonamassa.
The singer/songwriter first enlisted her help for providing vocals on the track "No Love on the Street," then later joined up for an album of blues classics called Don't Explain. Since then, they've toured together throughout Europe, releasing a DVD of the performances entitled Bang Bang Boom Boom in Europe.
Among the others she's collaboratored with over the years are Jeff Beck (who teamed up with the singer for her heart-stopping rendition of I'd Rather Go Blind in tribute to Buddy Guy), Guns N Roses survivor Slash and the legendary Buddy Guy himself.
But Hart's most intimate collaboration is her marriage to road Manager Scott Guetzkow. The couple resides in Los Angeles where the singer is seemingly reeling from her head-spinning success.