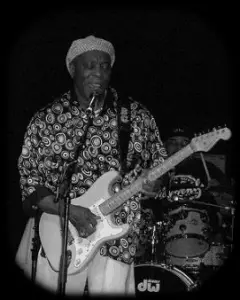 Buddy Guy has probably played the Blues live for more people than anyone else. His expressive, footloose, unpredictable guitar lines, his tortured vocals and his mastery of dynamics make him an impressive artist on record, well worthy of his six Grammys, but his half-century of live performances have given him a special place in the hearts of those who love to see a man play his Blues.
George 'Buddy' Guy was born in 1936 in Lettsworth, Louisiana, just across the Mississippi from Angola State Prison. Young Buddy made himself a two-string 'diddley-bow', before acquiring a Harmony acoustic guitar which never seemed to have a full set of strings. He tormented his brothers and sisters as he searched for the notes that he heard John Lee Hooker play on the radio but by the time he was seventeen, Buddy was gigging regularly with 'Big Poppa' John Tilley in nearby Baton Rouge. His initial stage-fright was warded off with alcohol and by 1957 Buddy was confident enough to move to Chicago.
It wasn't easy for the new kid in town, but Buddy was keen to impress. Emulating his early hero,
Guitar Slim
, Buddy matched his high-energy playing with enthusiastic showmanship, once beating
Otis Rush
and Magic Sam in a 'Battle of the Blues' at the Blue Flame Club.
Muddy Waters
befriended the young man and soon he was playing with
BB King
, Muddy and the Chicago Blues elite.
Magic Sam
introduced Buddy to Eli Toscano, owner of the Cobra/Artistic label, and and Buddy cut a couple of tracks for Artistic in 1958. Sadly the label went bust, but Buddy's friendship with house producer 
Willie Dixon
meant that when Willie went back to
Chess
, he took Buddy with him.
Frenetic West-side Blues at its finest!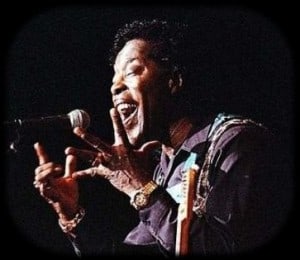 In the period from'60 to '67, Buddy recorded a lot of Blues at Chess, from his debut single 'First Time I Met the Blues', through heart-breakers like 'Stone Crazy' and 'Leave My Girl Alone' to the rumbunctious 'No Lie'; this was Buddy showing his stuff. He was an established artist touring widely and appearing with the Folk/Blues Festival in Europe, but he was also still working as a session man for Chess. He backed Muddy Waters, Howlin' Wolf, Sonny Boy II and many others, including contributing the licks to Koko Taylor's 1966 hit 'Wang Dang Doodle'.
Buddy also appeared on Junior Wells' 1965 album 'Hoodoo Man', billed as Friendly Chap for contractual reasons, and a long playing partnership was formed. When Buddy left Chess in 1967 he recorded a couple of albums for Vanguard, but in 1969 joined with Junior Wells at Blue Horizon to release 'Buddy and the Juniors'. The pair opened the Rolling Stones 1970 European Tour, and spent the next ten years recording and touring together. Their 1974 show at the Montreux Festival gives a brilliant insight into their on-stage chemistry on the live album 'Drinkin' TNT an' Smokin' Dynamite'.
Buddy and Junior Wells became a great double-act!
The eighties were a quiet decade for Buddy, but he was back with a bang in the nineties. Guest appearances at Eric Clapton's '24 Nights at the Albert Hall' concerts reminded everybody what they had been missing, and Buddy's 1991 album 'Damn Right I've Got the Blues' was a worldwide hit, the first of three consecutive Grammy winning albums.
Live performance is always Buddy's strong suit and he toured the world like a rock-star, selling out some big houses and showing off the stagecraft that has long been a feature of his gigs. He teamed up with Junior Wells again for 'Last Time Around-Live at Legends', his Chicago club, 'Every Day I Have the Blues' and 'Night of the Blues'. Buddy continues to record and gig at a fantastically high standard, His 2010 album 'Living Proof' picked up another Grammy, he gigs all over the world and he still plays Legends when he is in town.
Buddy performs 'Damn Right I've Got the Blues' for British TV;
President Obama joined in with 'Sweet Home Chicago' at a White House show in 2012, which just shows that when Buddy plays his Blues for you, everybody is a fan.