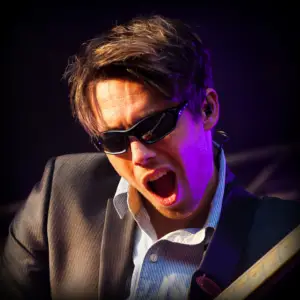 With a propulsive drive that seems to erupt directly from a wounded soul, Aynsley Lister's scorching guitar work sounds as though it could have come from an itinerant blues master of from ages past eager to escape a life of sharecropping. But as his name would suggest Aynsley is no Delta Bluesman. He's one of several bright lights in the world of blues emerging from the United Kingdom.
When Lister first picked up the guitar at the age of eight, his earliest influences were British bluesmen of decades past. John Mayall, Peter Green and Eric Clapton were all early inspirations for the young Aynsley. And while his initial choice in guitar-slinging role models was made possible partly by limited access (these were the artists found in his father's collection of 45s) it's likely that national pride also factored into things.
The UK had not always been a hotbed for the blues. As recently as the 40s and early 50s, things across the pond didn't get much more soulful than the banjo strumming George Formby crooning such corny hits as "When I'm Cleaning Windows." But change came quick when a generation of young British guitar gods caught wind of Black American blues legends like
Muddy Waters
,
Freddie King
and
Buddy Guy
.
If we fast-forward a generation or two we get to Aynsley Lister, a young guitar wizard whose guitar and vocal prowess owes much to a vast array of legends on both sides of the Atlantic.


At eighteen, already a veteran of many local bands, he formed one of his own and recorded Messin' with the Kid and Pay Attention in 1996 and 97, prompting Thomas Ruf, owner of Ruf Records to sign Lister to a contract.
Lister's first major release, a self-titled album followed in 1998, opening the door for a flood of opportunity for exposure, bringing his unmistakable sound to a diverse range of audiences. As an example of his varied appeal, Lister has opened for Buddy Guy, Bryan Adams, Fun Lovin Criminals, Robert Cray and childhood hero John Mayall.
Subsequent releases on the Ruf Records label include 2000's Everything I need, Supakev 'n Pilchards (2002) All or Nothing (2002) 2004's Live! and 2005's Pilgrimage (both also released as DVDs) and Upside Down from 2007. 2008 saw Lister move to Manhattan with the release of Equilibrium, then Tower Sessions a year later.
As if delighting crowds with a skillful guitar work wasn't enough, Lister has explored other realms likely to arouse much attention in the changing landscape of contemporary music. He and his wife and manager Stephanie have set up a partnership for a label (Straight Talkin' Records) and the fully independent release of his latest album Home. The idea of a bluesman boldly going it alone against a sea of hungry sharks seems an apt metaphor for the blues artist. Only time will tell how much this new independent mode will send Lister's career soaring, but so far, the results have been promising: In August of 2014 the gifted Brit took home two awards for 'Best Songwriter' and 'Best Song' for his self-released Home at the British Blues Awards. In three other categories – "Best Guitarist", "Best Male Vocalist" and "Best Album (Home)" he finished as the runner-up.
Most promising of all is Lister's eagerness to share his love for the guitar with more then just his music-buying audience. He's written a several instructional articles for Guitarist magazine, and has shared his enviable techniques on many Youtube videos.
It's temping to see how much of Lister's fretboard magic can indeed be transferred through lessons and how much can only be acquired through hard work, fortunate DNA and something in the waters of the UK.