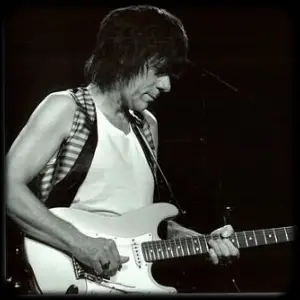 Jeff Beck was a young session guitarist who was taken up by one of the leading bands of the British Blues Boom and, when he went solo, went on to produce 'Truth', one of the most influential albums of his generation. Joe Bonamassa, every single Hard-Rock power-trio and the entire Heavy Metal genre took something from Jeff Beck's work. His fretboard gymnastics might not be to everybody's taste, but he could lay down a Blues solo that would scorch your earlobes, and his musical explorations and collaborations continued throughout his unique and eclectic career.

Geoffrey Arnold Beck was born in Wallington, just south of London in 1944. He heard
Les Paul
playing an electric guitar on the radio when he was six and was so impressed, he set about building his own! After his schooldays, Jeff enrolled at Wimbledon School of Art and he joined a local band where he played licks he had heard on Gene Vincent and Buddy Holly records. He got some session work in 1964, and when The Yardbirds were looking to replace
Eric Clapton
, they asked Jimmy Page, who turned them down but recommended Jeff. In a stay of less than two years, Jeff played on a string of Yardbirds hits, but was fired half way through an American tour. He went into the studio with some friends (Jimmy Page, John Paul Jones,
Nicky Hopkins
and Keith Moon), and emerged with 'Beck's Bolero', a signature piece that pre-figured a lot of Heavy Metal sounds. It was released on the B-side of 'Hi-Ho Silver Lining', a pop tune that made number 15 on the singles chart and bought Jeff some credibility with his record company. He formed The Jeff Beck Group with Nicky, Rod Stewart, Ronnie Wood on bass and drummer
Micky 'Wallop' Waller
, and they recorded the seminal 'Truth' album. It was released in August 1968 and its sensational mix of hard-edged Blues with a modern Rock sensibility was a template for the Blues-Rock bands that followed, not least when Jimmy Page and John Paul Jones formed Led Zeppelin the following month. A second album, 'Beck-Ola' was released the next year but the band broke up in acrimony.
Jeff Beck group recording 'Plynth', featuring Rod Stewart's great Blues voice;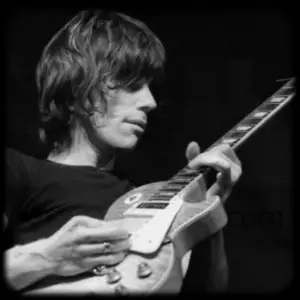 Jeff lined up Vanilla Fudge men Tim Bogert and Carmine Appice to form a 'supergroup' but a car crash left Jeff with a broken skull and the project was put on hold. When he had recovered, Jeff cut the 'Rough and Ready' album with a brand new Jeff Beck Group, and the jazzy R&B tracks gave a pointer to his future direction. By late 1972, Bogert and Appice were available again, so the power trio revved up and hit the road for a couple of years. Jeff's next two albums after BBA both went Platinum: 'Blow by Blow' and 'Wired' took Jeff in the direction of jazz-rock fusion and he pursued this fretboard frenzied path for ten years. Noise-induced tinnitus became a problem for Jeff, resulting in a four year layoff and the chance to indulge his hobby of collecting classic cars. Perhaps as a consequence of his hearing problems, his 1989 album 'Guitar Shop' saw him playing delicate fingerstyle guitar. After that, Jeff had been a welcome guest on dozens of Blues and Rock projects, while recording instrumental albums like 'Frankie's House', 'Who Else!' and 'You Had It Coming' and the Gene Vincent tribute set 'Crazy Legs'. After suddenly contracting bacterial meningitis, he peacefully passed away in January 2023.
Jeff rocks out with a star-studded cast at The Hall of Fame.
Along the way, Jeff picked up seven Grammy's, two Honorary Degrees and was twice inducted into the Rock'n'Roll Hall of Fame but, for me, none of that comes close to the legacy Jeff gave us with that searing slide-guitar sound on 'Ol' Man River' as Keith Moon tries to burst the timpani!