All About Blues Music is Your Online Blues Loving Community.
If You Love The Blues, This Is The Place For You.
Are you used to spending hours, surfing the Internet, looking for the best in Blues Music? If so, you are one of the many people who would benefit from the regular news stories from All About Blues Music.
It is true! There are a lot of people finding the best of Blues Music, traditional and Modern from the comfort of their own home by registering with All About Blues Music. Add your e-mail address in the form below and you can be one of them.
Subscribe Now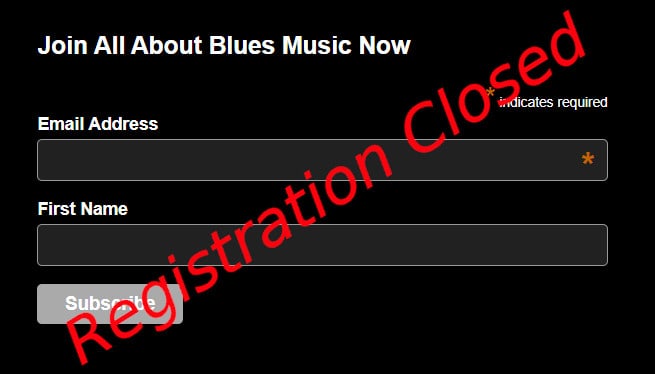 Leave your e-mail address and press Register to join All About Blues Music and you will be sent newsletters on what's new and what's not so new in the world of blues music.
We have hundreds of biographies of the men and women that made the Blues what it is today.
No need to spend hours surfing the Internet - it's all here at your fingertips.
If this is the kind of information you'd like to get your hands on, now you can.
Enter your e-mail address and name, then press 'Subscribe'
What can you expect from All About Blues Music?
Blues Artists
Son House, Ma Rainey, Blind Lemon Jefferson, Bessie Smith, Lonnie Johnson and Charley Patton were among the top blues artists who appeared in bars and 'juke joints' in black neighbourhoods to play Blues music during the first few decades of the 20th century. Itinerant musicians, from Texas to the Carolinas, would often play and sing in the streets to make a few cents. There were hundreds of these 'footloose bards' developing their vocal and musical styles, borrowing lyrics and tunes from each other in the lively creative chemistry of the oral tradition. For instance, the story of Stagger Lee was based on an murder that happened in the 1880′s, and the tale was told for many years in popular blues ballad form. Mississippi John Hurt recorded his version in 1928, and the song is still being played today by modern Blues artists.
Profiles of modern Blues artists, Blues guitarists and the top female Blues artists.

Interesting background to the music, facts and well known myths.
And of course lots of Blues Music online.
Find out more about your favourite Blues musicians like Robert Johnson, Muddy Waters, Bo Diddley, Bessie Smith and More.
Learn about Blues Music History and The Origins of the Blues.