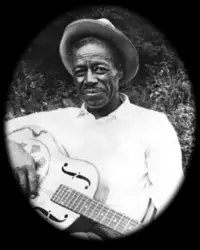 When Son House was 'rediscovered' in 1964, he was a prized example of what the Folk/Blues revival fans had been searching for. The power and conviction of this old man as he slashed down on his battered resonator guitar, rolled back his eyes and gave out a big lungful of his Blues, left no doubt that this was the real thing. Here was a man who had lived at Dockery Plantation in the late 20s when a group of spectacularly good musicians were giving us an insight into the origins of the Blues.
Eddie James House Jnr. was born in 1902, and by the time he was 15 he was a wandering preacher, touring the Delta plantations evoking hell-fire with an impact and fervour that became a feature of his later Blues career. He developed a taste for corn-whisky, and when he picked up his first guitar at the age of 25, a change of occupation beckoned.
It didn't last long because he shot a man at a house party in 1928, and was given life in Parchman Farm Penitentiary. It took two years for his parents to arrange a re-trial, where his plea of self-defence was accepted on condition that he left town and never went back!
In Lula, about 25 miles north of Clarksdale, Son met Charley Patton, and although the men had radically opposing characters and an ongoing mutual antipathy, they respected each others' playing. They performed all over the Delta with their friend Willie Brown, and in 1930 the trio travelled to Wisconsin to record for Paramount Records. Charley Patton had a hit with 'Pony Blues' the previous year, and Paramount were keen for more. They played together on several tracks, and each man cut a few solo efforts too. Son House's 'Preachin' the Blues', about how the Blues stole his Soul from the Baptist Church, is truly hair-raising in its demonic fury.
'Downhearted Blues' would have been heard at the Dockery Plantation;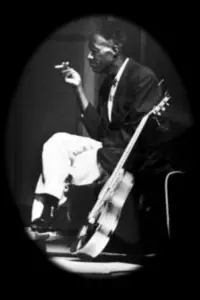 The three men continued to play around the Delta, and about this time they witnessed the remarkable transformation of Robert Johnson from barely adequate strummer to outstanding technical innovator on guitar. Son House is often given the credit for this, but the legend says Robert's new talent was gained in a pact with the Devil. Following Patton's death in 1934, Son House and Willie Brown continued their double act. In 1941 Alan Lomax recorded a session with the men for the Library of Congress, but shortly after this both men dropped out of sight.
When researchers, including the writer and producer Dick Waterman, 'discovered' Son House in Rochester NY in 1964, the old man claimed not to have touched a guitar in decades. Dick later said Alan Wilson (later of Canned Heat), coached Son in how to play like he did in his prime, as the old songs came flooding back. Son House revelled in his 'living legend' status, and when the Folk/Blues revival was boosted by new interest in all forms of Blues music after the British Invasion of the mid-sixties, he toured extensively in the USA and Europe. A documentary film was made of his life-story in 1969, but next year Son House fell into ill-health. He was diagnosed with Parkinson's disease and Altzheimers, and had given up performing completely by 1976. He died in Detroit in 1988.
When wide-eyed fans asked Son House about Charley Patton and Robert Johnson, they were speaking of legends, but in his replies he was just talking about his friends. When he picked up his guitar, he flipped back to a different era, and gave us a taste of how the Blues used to be.
Son House's legacy is still heard in the 21st Century;