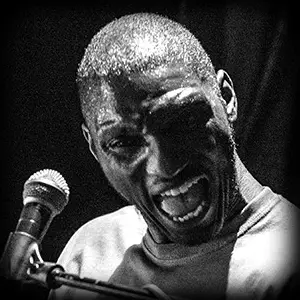 Blues drummer Cedric Burnside couldn't have gotten a better lineage of music richness if he'd requested it himself. The grandson of legendary bluesman R.L. Burnside and the son of blues drummer Calvin Jackson, this bright shinning light on the blues scene learned his craft early and has taken all the necessary steps toward an ascent to stardom.
Family legend
Perhaps it's best to take our tale of family legend to the beginnings of the Burnside family legacy, grandfather R.L. Burnside. A well-travelled bluesman from Layfayette County, Mississippi, Burnside took an arduous and circuitous route to the top of the blues world, cutting his teeth around various Mississippi clubs in the 1940s, but not finding lasting success until becoming something of a crossover novelty with punk rock fans in the 1990s.
His son, drummer Calvin Jackson, took a faster track to success, first playing in his father's band at the age of 16, then moving on to collaborations with such notable blues luminaries as Junior Kimbrough, Jessie Mae Hemphill, CeDell Davis and Markus James.
In the 90s Jackson would move to the Netherlands, expanding the already cosmopolitan audience of the blues. Soon his band would boast a new drummer: son Cedric Burnside.
An early start
But Cedric at this early stage wasn't a complete beginner. He had actually played with grandfather R.L. Burnside at the age of 13. After the important stint with his father's band, he went to play with country blues performer Richard Johnson, then the family tour continued as he played with his uncle Garry's band, The Burnside Exploration in 2006. By then, Cedric had begun an exploration of his own.
What followed was a series of brief but musically vital partnerships with a wide range of music-makers. First, in Clarksdale, Mississippi, he collaborated with Lightnin' Malcolm for the album Juke Joint Duo and added a successful tour. Two years later they followed up with the release of Two Man Wrecking Crew, featuring Jason Ricci on harp and Etta Britt's powerful back-up vocals. Their efforts won them a Blues Music Award for 'Best New Artist Debut.' The twosome later toured with The Big Head Blues Club.
Recommended Album
If you're seeking emotionally raw, hard-hitting blues, the kind you'd likely find in a backwoods shack after midnight, you can't do better than Cedric Burnside's The Way I Am. The title tells you everything about the artist's intention. He wants to share himself with the listener – every joy, every heartbreak, every eccentricity.
The album gets off to a rollicking, if understated, beginning with the raw, rudimentary blues of Holly Springs. From there Burnside steps into Quicksand, a track that lists his every quality good, and uncomfortable. The rest of the ride is every bit as loaded with beats, melodies and searing – if simple – musicianship that embody the blues in the most captivating way.
As an Amazon Associate I earn from qualifying purchases.
In 2011, a team-up with yet another gifted member of the Burnside clan, this time younger brother Cody, led to the creation of The Cedric Burnside Project.
A year later came the recording of the Allison Burnside Express, a collaboration with Bernard Allison, a Chicago born and bred guitar sensation. Their album would be released in 2014.
Before that 2013 would see the release of The Cedric Burnside Project's Hear Me When I Say, followed two years later with Descendants of Hill Country, which was funded by a Kickstarter campaign.
In the same year of Hear Me When I Say, Burnside took home his third Memphis Blues Award as 'Drummer of the Year.' And as his career has risen, the honors keep pouring in. In 2016, he was nominated for Best Blues Album.
Cedric Burnside - Love her 'til I die
Most blues fans would agree that the blues begins and ends with a guitar. The image of the itinerant bluesman taking a lonely stroll down a dirt road is an iconic element of blues lore. And guitarists from B.B. King to Robert Cray and Stevie Ray Vaughan have greedily gobbled up the attention of the genre's aficionados over the decade. While harmonica players, pianists and organists will occasionally get their due, drummers of the blues world are often treated as an afterthought. Cedric Burnside might just change that.
Burnside's percussion prowess is distinguished not by virtuosic flair, but by the rawness of its simplicity. There is something powerful and urgent about the way Cedric strikes the skins. It sounds soulful, sensual and tribal. In other words, Cedric Burnside's drumming sounds like the blues. Thankfully, he has a voice to match and the dazzling combination will undoubtedly make more stunning music for decades to follow. Just make sure you don't miss him.