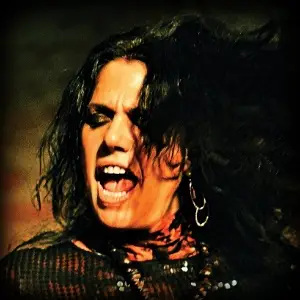 New York City is not typically recognized as a fertile ground for blues performers. While the blues is and has always been alive in the influence of many jazz greats who cut their teeth in the Big Apple (Billie Holiday, Lester Young and Charlie Parker come to mind) the slick and sophisticated city known for never sleeping doesn't seem like a place likely to produce a down-home, raw charmer like Robert Johnson or B.B. King. But Sari Schorr seems to be on a mission to change all that.
Delta of the East
Schorr's family background was also unusual for someone who later made a living as a blues singer. Her father was not a guitar-plucking bluesman, but an Air Force pilot. Her mother was not a wild woman vocalist a la'
Bessie Smith
or
Big Mama Thornton
, but a fashion model.
Fortunately, whatever her parents lacked in blues-friendly talent, they more than compensated for in taste. Shorr recalls a house always filled of music. Ray Charles and Frank Sinatra were family favorites.
Thus young Sari, according to family lore, was singing before she could walk.
Young Lady Sings the Blues
Schorr's early influences were jazz and blues singers such as Billie Holiday, Ma Rainey and Bessie Smith. Inspired by these ladies and their passionate and courageous battles against the injustices of their time, the blues became her favorite genre as well as the focus of her singing life.
One of Schorr's earliest bands came from the legendarily rough South Bronx. Not surprisingly, she has her share of strange and dangerous experiences. She recalls hearing the occasional gunshot between songs at one club. But another iconic New York venue helped paved the way for this stunning singer.
Manhattan's Lower East Side's club CBGBs was best known as a breeding ground for punk/new wave bands of the seventies and eighties. But Schorr (perhaps in an effort to remind folks that the club's letters stood for Country Bluegrass and Blues) used it to propel her career to the next plane. It wasn't easy. She recalls early days when band members would outnumber audience members. But in time, a passionate voice like Schorr's would not be denied.
The next step in Schorr's journey was becoming a full-time professional musician. Not an easy transition as singing for your supper is a difficult task even for someone as amazingly gifted as her.
This meant making tough choices, including not taking jobs there were offering "Real money." She adds, "I had to accept that going into music full-time meant I'd probably not get on my feet financially for a while – if ever."
World Wild Blues
One of the recent tendencies in the world of the blues is the expansion of the genre into international areas that have had little or no previous history with it.
Who better to play a huge role in this expansion than a cosmopolitan New Yorker? It is this spirit that Sari Schorr has reached out to a diverse collection of writers from around the globe.
Among them were Henning Gehrke of Germany, Quique Bonal of Spain and Americans composers Dave Fields and Jimmy Yaeger.

Schorr also confirms that not only are blues being played all over the world, but audiences from overseas are developing a strong appreciate for it. "There is a big market for blues in Europe. Many of the festivals are in the most picturesque locations and I've always loved working in Europe. But, I find there is just something very special about a blues audience, no matter where you are."