Southern Blues from Way Up North
The consensus among knowledgeable blues fans is that the genre has its origins in the American south. Legends from the Mississippi Delta such as Robert Johnson, Muddy Waters and John Lee Hooker as well as Texas blues rockers like T-Bone Walker, Big Mama Thornton and Stevie Ray Vaughan all played an enormous role in the artistic and commercial development of this uniquely American idiom. But in recent years, its fan base has increasingly spread to such unlikely locales as Africa, Europe, South America and Australia. In addition, blues players themselves have emerged from places not normally associated with conventional image of the genre.
The list of Canadians who've made significant contributions to the world of the blues is not terribly long. But in the past few years, one such resident of The Great White North has threatened to put his native country on the blues map in an unforgettable way.
Little man, big talent
The Canadian guitar whiz's journey began early. At the age of twelve he started on his first instrument – the drums. With the support and guidance typical of a musical family, he excelled quickly. But a change of instruments was right around the corner. All it took was a
B.B. King
concert.
Once he'd witnessed the blues master in a live setting, Jones shifted into a higher gear, hanging out and sitting in with mentors who would help him find his voice on his new instrument. Among those mentors were "Big" Jack Johnson & the Oilers, 'Jumpin' Johnny Sansone, and the Tony D Band. A gift from his grandparents – a Fender Stratocaster – also played a key role in his development, not to mention the addition of a third instrument – the bass.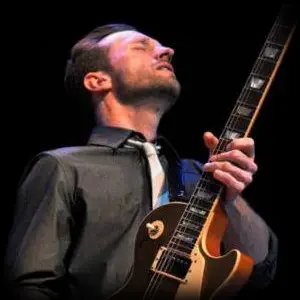 The next big career step came in 1998, when Jones was only 18. He and a group of high school buddies recorded a six-track demo. Named the JW Jones Blues Band, the incipient group used the recording to secure access to multiple bookings at clubs and Canadian music festivals. Before turning twenty, Jones would win the Ottawa Blues Guitar Riff-off. Then came a tour of Europe that further expanded his following.
Defibrillatin'
In 2000, Jones and company combined efforts on the debut release Defibrillatin.' As fans of medical TV shows may know, a defibrillator is an electronic devise used to revive a dying patient. In laymen's terms, it is a shock to the system designed to wake up an ailing patient.
Other albums followed. And with the release of each, Jones has seen his popularity fly higher and higher. Additionally, he's been the recipient of much praise both from expected and unexpected quarters. He's won a Canadian Independent Music award for "Electric Act of the Year" as well as a Blues 411 award for "Best Male Vocalist."
But he was also featured in the Ottawa Business Journal / Chamber of Commerce in association with "Forty Under Forty." In subsequent years, his albums have included Bogart's Bounce, My Kind of Evil, Kissing in 29 Days, Bluelisted, Midnight Memphis Sun, Seventh Hour and his most recent effort, Belmont Boulevard.
The confidence and extreme focus found in Jones' playing can perhaps be traced back to a key moment in his life when, shorty after signing with the label Northern Blues he was attending college for a computer course. He recalls: "The label was flying me across the country to play in showcases, and I had gigs every weekend. My focus was on the music and not school. I remember walking away from the college one day, and just like the movies… I looked back at the school, and said to myself, 'I am never coming back here.' It was the best decision I've ever made. After that, it was complete concentration on building my career."
Each move he's made since has been a bold affirmation that he has made the right choice. If his playing in any indication, JW's supreme sense of focus hasn't wavered a bit.