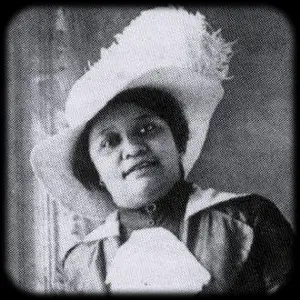 Sara Martin was already 38 years old, with a long career behind her as a vaudeville singer, when she cut her first record for the Okeh label. Her big, rich voice; her stylish stage presence; her choice of some outstanding material and some shrewd publicity made her one of the most successful Blues Divas of the 20s.
Sara was born in Louisville KY in 1884 and she built a solid career as a singer on the Southern theatre circuit before WWI. When record companies saw the size of the market for 'Race Music' after the sales of Mamie Smith's 'Crazy Blues' in 1920, they were all looking for their own Blues Diva. The Okeh label signed Sara in 1922 and one of her first recordings was 'Taint Nobody's Bizness if I Do' with Fats Waller on piano.
The following year, Okeh released seventeen records by Sara and this sheer quantity meant that some of the tracks were not particularly good, but when she gained more control of her material, she proved to be a star performer. Billed as 'The Coloured Sophie Tucker', Sara could really swing and she showed true Blues sensibility on tracks like 'Death Sting Me Blues' and the bawdy 'Mean Tight Mama'. Working with top sidemen like
Clarence Williams
, Sidney Bechet,
Sylvester Weaver
and King Oliver's band, Sara was a consistent best seller. Her duets with Sylvester are the first examples of a Blues singer making a record accompanied by a single guitar.
Sara had a sweet voice;
Sara's reputation as a recording artist grew and her live shows played all over the South and East Coast. In common with most early Blues Artists, Sara recorded for several other labels for a flat fee, with her records issued under the names Margaret Johnson and Sally Roberts. As recording techniques improved over the 20s, Sara continued to release great songs, but the days of the Blues Diva had passed as newer country Blues men began to dominate sales, and Okeh dropped her from their roster in 1927. Sara's spectacular stage show, where she often made three costume changes, meant she was always a popular theatre performer and in the late 20s she toured Cuba, Puerto Rico and Jamaica as well as major US cities. She appeared in the 1929 film 'Hello Bill', and in the early 30s Sara retired from Blues singing and opened a nursing home in Louisville, where she also employed her talents in the local Church Gospel choir. Sara passed away from a stroke in her hometown aged 71.