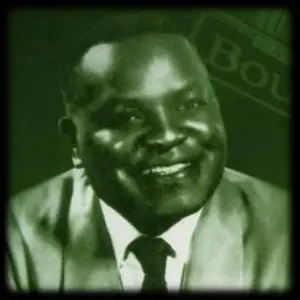 Smiley Lewis was a big-voiced New Orleans guitarist who put out some great R&B records in the early 50s that sold well for him, but went on to provide worldwide hits for other artists. With Fats Domino sharing top billing with him at Lew Chudd's Imperial Records, the company used the pair as a 'one-two punch', but when Fats launched himself into the mainstream, Smiley "was practically drowned in Domino's backwash", to quote Tony Russell who called Smiley "the unluckiest man in New Orleans".
Overton Amos Lemons was born in 1913 in DeQuincey LA, and lost his mother Lillie Mae when he was a child. As a teenager, he made his way to New Orleans where he stayed with an Irish family and adopted their surname. Already a talented guitarist with a booming voice, he began to get some bar gigs with pianist 'Tuts' Washington, appearing as 'Smiling Lewis'. They also played with a Dixieland band, and during WWII would entertain the troops at nearby Fort Polk. Forming a trio with Tuts and drummer Herman Seals, Smiley played the bars of Bourbon Street where he was picked up by DeLuxe Records, who released 'Here Comes Smiley' in 1947. Smiley's early records were popular on juke boxes in his home-town and, in 1950,
Dave Bartholemew
took him to
Cosimo Matassa
's little J&M studio to record 'Tee Nah Nah' which sold pretty well locally. Two years later, Smiley's own song 'The Bells are Ringing' on Imperial was a national hit, closely followed by 'Lillie Mae', 'Gumbo Blues' and 'Playgirl'.
Smiley's biggest hit, 'I Hear You Knocking';
In 1954, Smiley took Bartholemew's 'Blue Monday' into the R&B charts, paving the way for Fats' huge later cover, but in 1955, 'I Hear You Knockin' went to No.2 in the R&B listings, with Smiley singing over the rocking piano triples provided by Huey Smith. Smiley's success was soon overshadowed when a cover version by movie actress Kate Storm went high in the pop charts. Smiley's records continued to sell well, but again his impassioned version of 'One Night' was covered, with cleaned-up lyrics, by Elvis. 'Shame, Shame, Shame' was Smiley's own song and provided his last real hit, and featured in the 1956 film 'Baby Doll'; was covered much later by Aerosmith; and titled an episode of the TV series 'Tremé' with updated lyrics. Lew Chudd pushed Smiley towards more pop and country material, with little success, and he found himself opening tours for Ernie K-Doe and Lee Dorsey. Dropped by Imperial in 1961, Smiley released a few more singles on the Okeh and Dot labels, but even a new version of his earlier record 'The Bells are Ringing' produced by Allen Toussaint didn't sell much outside his home-town.
Smiley's music is extremely under-rated and other artists had much better luck with his material: for instance Dave Edmunds had a No.1 single with 'I Hear You Knocking' all over the world in 1970. All Smiley's biggest tunes are better known by other versions, except in New Orleans, where he is remembered as a pioneer of Rockin' Blues. Sadly, Smiley was diagnosed with stomach cancer in 1966 and swiftly passed away.