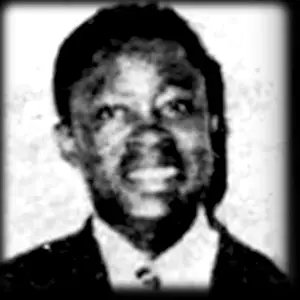 Cousin Leroy was a singer, harp player and guitarist from rural Georgia whose R&B records in the late 50s put the emphasis squarely on the Blues half of the equation. He was part of the Post-WWII club scene in New York, and his regular associates included Champion Jack Dupree and Larry Dale, who graced all Leroy's recordings, although these were limited to a few sessions for the Groove and Ember labels.
Leroy Rozier was born in Chester GA in 1925, and his life is shrouded in mystery, but in July 1955 he went to a New York recording studio to cut some tracks for Groove Records. With Champion Jack on piano and Larry on guitar, Leroy showcased his fine voice and breathy harp style, which was somewhat reminiscent of Sonny Terry. Leroy's Blues often had the joyful, up-tempo feel of a Saturday night at a juke-joint, but he could also howl a dark, impassioned tale of love gone wrong.
Cousin Leroy's 'Goin' Back Home';
Two years later he was back in the studio with the same musicians, including Sid Wallace on bass and drummer Gene Brooks, to cut a dozen more tracks for Ember Records, including his take on
Blind Lemon Jefferson
's 'Matchbox Blues'. These sessions resulted in three more singles, but none troubled the R&B charts, so Champion Jack was soon to depart for Europe and Leroy went back South. He continued to play around his home town of Chester, a small place with only a few hundred inhabitants, including an appearance at a 'Battle of the Guitars' there in 1973. There are stories of Leroy being jailed and escaping, so perhaps he lived out his life as a fugitive Bluesman, riding the Greyhound bus with a harp in his pocket and the Blues in his heart. He finally passed away in New York in 2008, aged 82.