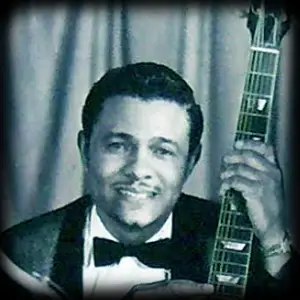 Larry Dale was a Texan guitarist and singer who played some swinging electric Blues in New York in the 50s; played on some seminal records; had a brief career as a bandleader, and was still active in Harlem in the 1990s.
Ennis Lowery was Larry's original name, and he was born in Hungerford Texas in 1923. His guitar style was heavily spiced with BB King-like riffs, and he was working the club scene in New York in the early 50s.
He made his recording debut in 1952 playing guitar for his long-time friend, pianist
Bob Gaddy
, on 'I Believe You've Got a Sidekick'. Larry's vocal talents were spotted by
Paul 'Hucklebuck' Williams
, and he sang and played guitar on a couple of successful singles, notably 'Shame, Shame, Shame' in 1953. He also teamed up with guitarist
Mickey Baker
and drummer 'Panama' Francis in 1954 as Big Red McHouston's Orchestra, recording for the RCA subsidiary Groove label, who were also responsible for Larry's first recordings as a leader. Using the 'McHouston' musicians, Larry put down four tracks that only saw the light of day on later Rock'n'Roll compilations, but in 1955, he released a couple of singles on the Herald and Ember labels.
Larry lets rip with 'Let My Doorbell Ring';
Teaming up with New Orleans pianist
Champion Jack Dupree
, Larry became his go-to guitarist for many years and featured on Jack's influential 'Blues from the Gutter' album in 1959. As well as playing his regular gigs with Bob Gaddy, Larry was also the singer/guitarist with Cootie Williams Orchestra with a long-term residency at The Savoy Ballroom in Harlem. Larry really hit his stride in 1960, with some great records on the Glover, especially 'Let the Doorbell Ring' and 'Big Muddy'. The following year, Larry cut a version of
'Stick' McGhee
's 'Drinkin' Wine Spo-Dee-O-Dee' for
Atlantic Records
, but further tracks remained unissued. Larry recorded again in New York in 1968 for the Ram and Fire labels but without much success. Twenty years later, Larry Dale's Houserockers, with guitarist Jimmy Spruell, released 'Got a Brand New Mojo', and he continued to play the Harlem club scene well into his 70s. Larry passed away in New York in 2010.