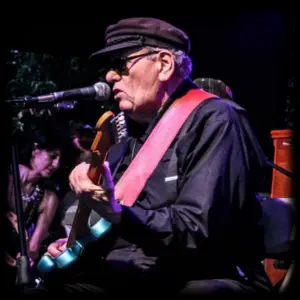 'Nick the Greek' Gravenites is a living link between the Chicago Blues clubs of the 50s; the flowering of the West-coast scene in the late 60s, and his current status as an elder statesman of the Blues. With an authentic, aggresssive growl, a wide array of writing and producing talents and an instinctive feel for the music, Nick has spent his whole life in the Blues.
Nicholas George Gravenites was born in Chicago in 1938, into a Greek speaking family. He was a troubled youth who was sent to Military School and wound up back in his home-town, at the University of Chicago in Hyde Park. The campus was near the South-side Blues clubs, and Nick also joined the Folk Society, which exposed him to the work of Lead Belly, Josh White and Big Bill Broonzy. Nick took up guitar and met the young Paul Butterfield, who was learning to play harp. Nick was interested in all kinds of music, from classical organ pieces to Caribbean work-songs, but when he discovered clubs like 'The 706' and 'Fraders', he was down there every night. Maxwell Street in the late 50s saw bands like Muddy Waters' and Buddy Guy's playing most nights, and Nick's persona as a huge 'wild-eyed stoned freak' with a passion for the music, took him to places most of his peers couldn't go. Nick spent some time in San Francisco in the early 60s, gigging with Paul when he came out to visit, and when Nick returned to Chicago in 1964, Paul had formed his band with Mike Bloomfield and Howlin' Wolf's side men Sam Lay and Jerome Arnold. Their breakthrough album led off with Nick's song 'Born in Chicago', and Nick himself began gigging with Mike Bloomfield and Charlie Musselwhite on the club scene. They were both soon very busy touring and recording, and the music Nick played in the clubs was more 'experimental' than straight Blues, not unlike Steve Miller who was also there at that time. When his friends from San Francisco, Big Brother and the Holding Co. came to town, Nick decided to go West again.
Nick with Mike Bloomfield;
Nick formed Electric Flag with Mike Bloomfield in 1967, sold loads of records and toured extensively. Nick wrote many of their songs and also composed music for the film 'Steelyard Blues'. Displaying a new talent, Nick produced
Otis Rush
's much under-rated masterwork 'Right Place, Wrong Time', which sadly could have been Otis's epitaph. After Mike left the band (or vice versa) Electric Flag carried on for a few years, and Nick continued producing records and gigging around California. His 1981 album 'The Usual Suspects' has contributions from
Mark Naftalin
,
Taj Mahal
and Mike Bloomfield. Six years later, Nick took his band, featuring long-time collaborator John Cipollina, on a European tour that included his ancestral homeland of Greece. Resident in Northern California, still working as a producer and gigging around the Bay Area, Nick has made many appearances at Blues Festivals, and featured heavily in the 2013 documentary film 'Born in Chicago'.