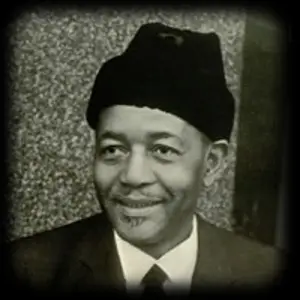 Curtis Jones was a melodic, Texas Blues pianist with a distinctive light touch, who enjoyed a successful recording career in Chicago before WWII, and then had a revival on the 60s Blues scene. He developed his style in Dallas and the club circuit in Kansas City before moving to Chicago in 1936. During the next five years he recorded for the Bluebird, Okeh and Vocalion labels and scored good hits with his signature tune 'Lonesome Bedroom Blues', a heart-felt song about his divorce, and 'Tin Pan Alley' which became a Blues standard. Curtis's 'Decoration Blues' was also a big hit for John Lee 'Sonny Boy' Williamson when he recorded it in 1938 with Yank Rachell on mandolin.
The War stopped Curtis's career, but he re-emerged in 1953 with the double-sided 'Wrong Blues/ Cool Playing Blues' on the Parrot label. In 1960, Curtis cut his first album, 'Trouble Blues' with
Johnny 'Big Moose' Walker
on guitar, and two years later he released a solo album 'Lonesome Bedroom Blues' where he re-visited his pre-War material. Also in 1962, Bob Dylan included Curtis's 'Highway 51' on his first album. Curtis relocated to Europe in the early 60s, where he found many opportunities to play and record. In 1968 he cut an album for
Mike Vernon
's Blue Horizon label with
Alexis Korner
on guitar called 'Now Resident in Europe', among other guest appearances in the studio and on the Festival scene. He passed away in Munich, Germany in 1971.
Curtis's 1938 track 'Black Gypsy Blues';