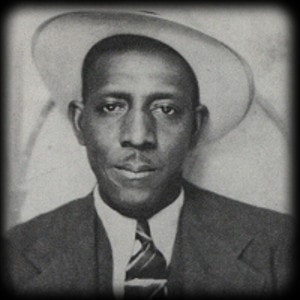 The mandolin is not the first instrument one might associate with the Blues, but in the hands of 'Yank' Rachell, it became a familiar sound on stage and on records. From the late 20s 'Jug Band Craze' to the 'urbanisation' of the Blues in 30s Chicago, onward to the 60s Folk/Blues revival and almost to the end of the Century, Yank added a twist to the music with his instrumental skills and impeccable good taste.
James Rachell was born in Brownsville TN in 1910. When he was eight years old he was given a little pig to look after, but he traded it for a 'hump-backed' mandolin and, when his Mama had calmed down, he taught himself to play. He was helped by Brownsville guitarist Hambone Willie Newbern, who was also a mentor to the young
Sleepy John Estes
, and all three would play dances and fish-fries around the district. 'Yank' and Sleepy John teamed up with pianist Jab Jones to form a 'jug-band' called The Three Js and relocated to
Memphis
, where they recorded nine tracks in 1929, eight of which were issued on the Victor and Bluebird labels. The following year, Yank made further records in Memphis with
Noah Lewis
and another jug band, and more sessions with The Three Js, but record sales dropped away to almost nothing as the economic depression began to bite.
Yank's 'Tappin' that Thing', backed by Sonny Boy Williamson and Washboard Sam;
Musicians could always earn a living playing in bars and juke-joints, and Yank's skill with his mandolin kept him busy. He toured around the Delta and Memphis region with Sleepy John and harp player Hammie Nixon, and on their travels they came across a young man called John Lee Williamson in Jackson TN. He joined their band, performing under the name 'Sonny Boy' and when Sleepy John and Hammie relocated to Chicago, he tagged along and went on to revolutionise the sound of Chicago Blues harp. Yank stayed in the South, farming and working on the railroad, but he kept on playing locally. In February 1934, Yank was called to New York by ARC Records, where he sang and played on six tracks with guitarist Dan Smith, which were issued under the name 'Poor Jim'. In 1938, Yank decided to join his friends in Chicago, where he found a lot of work as a session musician. Playing on dozens of records by Sonny Boy, pianist Walter Davis, Washboard Sam and guitarists Elijah Jones and Big Joe Williams, Yank also had 14 of his solo records released on the Bluebird label by 1941.
'Stop Knockin' on my Door' from the 1963 Delmark sessions;
Wartime restrictions killed Yank's recording career, so he got a day job, raised a family and relocated to Indianapolis. In 1962 the Folk/Blues revival was in full swing, and Yank joined up again with his friends Sleepy John and Hammie to play the Festival and coffee-house circuit. They recorded for
Bob Koester
's Delmark label in 1963 as The Tennessee Jug Busters, assisted by Big Joe Williams and the young
Mike Bloomfield
. For many years Yank and his partners were in great demand as genuine and original acoustic Blues players, and when Sleepy John passed away in 1977, Yank continued as a solo artist. He was working on an album when he passed away himself twenty years later.