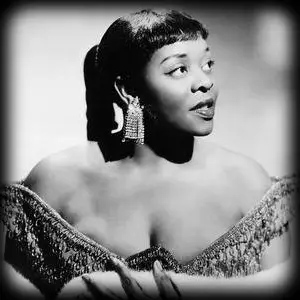 Dinah Washington was probably the most popular R&B singer of the 50s. Raised in gospel; gifted with an immaculate sense of blues phrasing; equally at home in jazz, blues, R&B and pop, Dinah's clear yet passionate delivery made her one of the biggest stars of the day and earned her the title 'Queen of the Blues'. Her tempestuous personal affairs gave her an insight into songs of lost love, but eventually cost her her life.
Born Ruth Lee Jones in Tuscaloosa AL in 1924, her family moved to Chicago when she was three years old. She was something of a prodigy in the local church, singing solo, playing piano and eventually directing the choir. For a while she went on tour backing 'The Mother of Gospel', Sallie Martin but didn't like the idea of not being centre stage.

Aged 15, she had won a talent contest and began singing in nightclubs, and by 1942 she had moved to New York seeking fame. She was seen by an agent when performing at The Garrick Bar, and he recommended her to Lionel Hampton, who hired her to front his band in 1943.
Now known as Dinah Washington, she made her first record, 'Evil Gal Blues' with a sextet drawn from Hampton's band. The record was a hit and several others followed in the next three years, so she signed as a solo artist, first with the Apollo label and then with the new Mercury outfit, where she stayed for seven years.
Dinah's first record was the first of her many hits;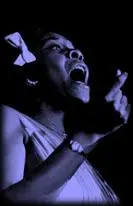 From 1946 to 1954, Dinah had 32 top 10 R&B hits with songs like 'Baby, Get Lost', 'Trouble in Mind' and 'I Wanna Be Loved'. She was equally at home with a big band, a small combo or a trio. Her high, sweet voice could sing jazz, blues and pop and she even had a hit with a cover of Hank Williams' country classic, 'Cold, Cold Heart'. Her records were appearing in the Billboard Hot 100 as well as the R&B charts. In 1954 Dinah recorded a live album, 'Dinah Jams' with Max Roach, Clifford Brown, Maynard Ferguson and Clark Terry, which showed that she could improvise with the very best. In 1957 she cut 'The Fats Waller Songbook' and later the same year 'The Bessie Smith Songbook' where she consolidated her given title of 'Queen of the Blues'.
Dinah's version of a Bessie Smith classic;
In 1959, her version of 'What a Diff'rence a Day Makes' went to No.8 in the Hot 100, and won a Grammy as the best R&B performance of the year. Another massive hit with 'Unforgettable' and two big hit duets with Brook Benton established Dinah as a hugely popular mainstream performer. Her choice of material had moved her in the direction of commercial success, with lush string arrangements, but her phrasing and delivery hardly changed over the years. One of her last albums was 'Back to the Blues' where she gave us Leroy Carr's 'How Long' How Long', Big Bill Broonzy's 'Key to the Highway' and other classic songs. She was a big star at many Jazz Festivals and recorded an excellent live album at one of her many Birdland gigs. Dinah's fame was worldwide and she played The London Palladium for Queen Elizabeth, and appeared with Count Basie and Duke Ellington.
While her career was on an upward trajectory, her personal life was a series of disasters. Prone to depression and rages, she was married seven times and none of the unions lasted much more than a year. She has sons with husbands number 2 and 3, and had only been married to pro-footballer Dick Lane for a few months when she died from a (probably) accidental overdose of pills and alcohol. She was 39 years old.