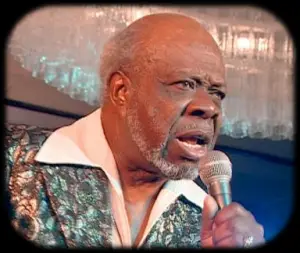 Rufus Thomas was a Soul giant in the 60s and a comedy disco act in the 70s, but before that he had been a big player on the Memphis R&B scene. He went on the road almost straight out of school, working as a comedian in travelling shows, including the Rabbit's Foot Minstrels. When he came back to Memphis, he got a gig as MC at the Palace Theatre, and began gigging as a singer and entertainer. He ran talent shows, and he is credited with helping BB King, Bobby 'Blue' Bland and Junior Parker to get started. Around this time, Rufus began working for the 'black' radio station WDIA, where he had a long running afternoon show. Rufus had made his first record for Star Talent while on the road in Texas and he recorded several tracks at Sam Phillips' Memphis Recording Services Studios which were leased to Chess Records in Chicago. In 1953 Sun Records released Rufus' track 'Bear Cat' which, as a 'response' to Big Mama Thornton's No.1 single 'Hound Dog', was a big R&B hit too. He had a second hit with 'Tiger Man', but Sun somehow dropped Rufus from their roster as the discovery of Elvis and his cohorts took their attention.
Rufus made a big comeback with his daughter Carla, sharing a hit with the duet, 'Cause I Love You' on the Satellite label, which was soon to morph into Stax Records. Rufus recorded his world-wide smash hit, 'Walking the Dog' for Stax in 1964, and his album of the same name had covers of John Lee Hooker's 'Boom Boom' and Lee Dorsey's 'Ya Ya', recorded with an energy and humour that characterises all his work. Rufus toured the world with many R&B package tours throughout the 60s, and early 70s, and he had other world hits with 'Do the Funky Chicken' and 'Do the Push and Pull', as he pounded out the Funk while acting as 'The Oldest Teenager in the World'. When he finally hung up his 'hot-pants', Rufus returned to his DJ job in Memphis and occasionally recorded comedy numbers on a 'Dog' or 'Chicken' theme, but his 1988 album for the Alligator label 'That Woman is Poison!' was a genuine Soul/Blues collection. Rufus died in his beloved Memphis in 2001.
Before funk and disco, Rufus sang the Blues!