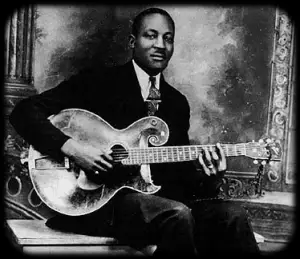 Big Bill Broonzy was a John the Baptist figure in the scripture of the Blues: a charismatic fore-runner of greater things to come. He took the sound of early Chicago Blues Bands out of the Windy City, across the country, and eventually to Europe where he planted a seed that came back in The British Invasion in the 60s to revolutionise popular music in America and around the world.
Born on the banks of the Mississippi in 1893, he was playing violin in church and at parties by the age of 10. After serving in the Army and the pulpit, he moved to Chicago in the early 20's, where he switched to guitar and found an audience hungry for the sounds of the Delta. He began recording with Paramount in 1927, his discs featuring his strong, emotive voice and his witty, sensitive songwriting. His records sold well in the early 30's with an entertaining mixture of 12-bar Blues, Folk tunes and Gospel songs. His dextrous flatpicking guitar style also made him a welcome guest on other artist's records. He played often with Hudson Whittaker, (Tampa Red) and these two friends and drinking buddies formed a kind of 'clearing house' for young musicians new in town, finding them gigs, rehearsal spaces and others to play with. For example, Memphis Minnie became a Chicago legend after beating Bill and Red in a 'cutting contest' at a South-side club, and she played a part in mentoring new arrivals from the South too.

Big Bill's music became more urbanised in the mid-30's and he usually played with pianist Black Bob Hudson, using various bassists and drummers and sometimes introducing horns to give a more contemporary 'swing' sound. As the 30's progressed, Big Bill was in the forefront in developing the 'Chicago sound', with bigger, louder bands as well as with intimate trios and small combos. His recorded output in these years was huge, cutting literally hundreds of solo tracks for many labels, on top of his work backing players like
Bumble Bee Slim
,
Lil Green
, his half-brother
Washboard Sam
and the early records of
Sonny Boy Williamson
.
Rockin' dance music from just one acoustic guitar!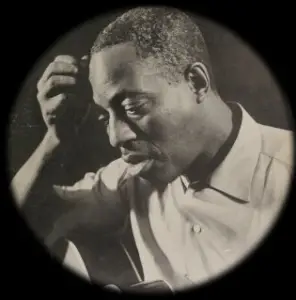 In 1938, Big Bill was invited to play at John Hammond's 'Spirituals to Swing' Concert at Carnegie Hall, which spread his fame well beyond the Blues communities of Chicago and the South. The next years saw Big Bill playing clubs and concert halls all over the USA, with steady record sales, including his most famous song, 'Key to the Highway'. Big Bill's concert appearances, especially with Memphis Slim on piano, and an extended stay in New York, brought him to even wider notice. A tour of Europe was arranged in 1951 which was to have a profound effect on that Continent. Audiences on the eastern side of the pond, especially in Britain and France, were knocked out by Big Bill's powerful and authentic performances. His Blues, Folk and Gospel music opened many peoples eyes and ears to this newly discovered Black culture. Many British Blues players cite these events, and Big Bill's subsequent tours over the next few years, as their inspiration for getting into the Blues, which in turn fuelled the rock revolution that shook the 60's.
'Black, Brown and White' was an important song after Big Bill was gone, in the struggle for Civil Rights;
Big Bill's versatility allowed him to spend the some time touring the world as an ambassador for all kinds of African American folk music, and back in the States he continued to recorded with
Blind John Davis
and
Pete Seeger
for the
Folkways
label. His recordings in London allowed Big Bill to express himself on the subject of race more forcefully than he felt able to in the USA, where 'Jim Crow' laws were still in force. There is no doubt that Big Bill's work raised consciousness about the Civil Rights movement that paid dividends a few years later. His biography was published in 1955, but by then his health was beginning to fail.
This Gentle Giant of a man, supremely talented and hugely generous of spirit, died from cancer in Chicago in August 1958.