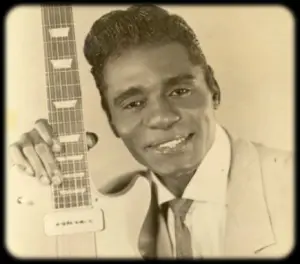 With a gospel voice straight out of Church and a guitar style straight out of the swamp; with his flashy suits and wild stage act, Guitar Slim was a major contributor to New Orleans R&B. Slim was a direct influence on the young generation of up-and-coming Southern guitarists like Buddy Guy and Albert Collins. If he had lived a little longer, Slim would surely have been destined for the world stage.
Eddie Jones was born in Greenwood MS in 1926 so, like almost every man of that generation, as soon as he was 18 he was drafted into WWII.

When he came home in 1946, he was keen to travel and eventually turned up in New Orleans in 1950. He teamed up with
Huey 'Piano' Smith
in a Blues trio, and their 1951 sessions for the Imperial label showed that Slim's distorted guitar sound and rich vocal tone were already established. In 1953, Slim switched to
Art Rupe
's Specialty label and, with
Ray Charles
on piano, he cut his seminal record 'The Things I Used to Do'. When the disc was issued in early 1954, it was a smash hit, riding high in the R&B charts for more than three months and becoming the best selling R&B record of the year.
Guitar Slim's biggest hit was on almost every juke-box in 1954;

Slim was never again to enjoy the same kind of record sales, but that was not for the lack of material. 'Story of My Life' and 'Suffering Mind' shared the angst of his big hit, and 'Well I Done Got Over It' and 'Quicksand' showed how hard Slim could rock. As a live act, Slim was spectacular; with his shiny red and green suits and white shoes, hair dyed to match, he used a massively long guitar lead (some say it was over 300 feet!) to explore the crowd, usually on the look out for a girlfriend. He was a serial womaniser, a very heavy drinker and the role model for coming generations of rock stars. Slim's records might not have spent years at the top of the charts, but the quality of his driving R&B made it some of the finest music coming out of New Orleans at a time when that city was at the cutting edge, and his guitar style influenced many who followed him.
Buddy Guy pays his tribute;
Slim's hard drinking lifestyle left his body unable to resist when he caught pneumonia, and he died in New York in February 1959.