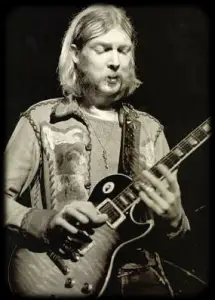 Nashville born slide-guitar maestro Duane formed the Allman Brothers band, with his kid brother Gregg on keyboards and vocals, in 1969. They had played together in various Blues and soul bands, and Duane had been getting work as a session guitarist for Aretha Franklin and Wilson Pickett when they formed the band, which included Butch Trucks and Jaimoe Johannson on drums, bassist Berry Oakley, and singer Dickey Betts on guitar. They tightened up their act on the road in Florida and Georgia, playing Blues classics like Blind Willie McTell's 'Statesboro Blues' and Muddy Waters' 'Trouble No More' alongside Gregg's songs. When their self named debut album came out in November '69, it contained one of their biggest songs 'Whippin' Post', but initially it did not sell well outside the South, despite critical acclaim.
Their follow up, Idlewild South, was a big hit, and when their producer Tom Dowd was working on his next project with
Eric Clapton
, Duane was invited to the Miami studios. Eric and Duane struck an instant rapport, and Duane appeared on most of the tracks on the album 'Layla and other Love Songs'. 'Skydog', as Duane was known, added his trademark soaring slide guitar to the title track and established his worldwide reputation. The Allman Brothers recorded an outstanding live album at the Fillmore East in 1971, and further tracks from the concerts appeared on the next album, 'Eat a Peach'. Unfortunately Duane was killed in a motorcycle accident before recording was complete.
'Whippin' Post'.    'Nuff said.