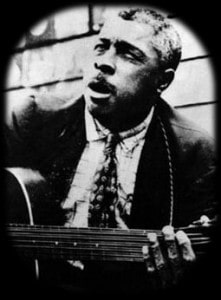 Willie McTell is rightly revered as one of the giants of early acoustic Blues. With his clear, light tenor voice and his stylish 12-string fingerpicking and slide guitar, he also wrote many classic Blues songs that have lingered into the modern era. Blind from birth, Willie was, by all accounts, a smart, generous, literate man whose talents defined the Piedmont style of Blues music.
William Samuel McTier was born near Thompson GA in 1901 (or possibly 1898 or 1903). His surname is later recorded as McTell, but this may be a simple mishearing; local dialect places the emphasis on the 'Mac' and the Southern accent does the rest! The family moved to Statesboro, where his mother taught Willie to play guitar, and he attended blind school in Macon, New York and Michigan, where he learned to read and write in braille, including braille music. When his mother died, Willie joined a travelling show as a 'songster'.

He would play many kinds of music on the road, including popular ditties, ragtime, gospel, reels and the newly popular Blues music. When he was not touring, Willie hung around Atlanta, playing on streetcorners, sometimes with
Buddy Moss
or
Curley Weaver
. Willie had met many musicians on the road including
Blind Lemon Jefferson
,
Lead Belly
and
Blind Blake
, and his cousin was
'Georgia Tom' Dorsey
, who was a mean
Chicago Blues
pianist before he took to religion and devoted his career to
Gospel music
. This wide exposure made Willie something of a human juke-box, able to sing hundreds of songs in a variety of styles, accompanied by his immaculate fingerpicking. In the mid-20's Willie picked up a 12-string guitar, and this is the instrument that defined his playing from then on.
Fantastic quality of sound on Willie's 'Driving Away Blues';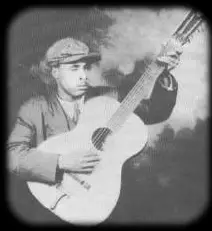 In late 1927, Willie recorded four tracks for Victor records, returning the following year for another session, and among these early songs were 'Statesboro Blues', 'Mama, Tain't Long for Day' and 'Three Woman Blues'. Despite their superb quality, the discs did not sell in great numbers and when the economy crashed in '29, there was not much money to be made in records. Willie hit the road again, because live music always pays cash, and over the next few years his recordings appeared under many different names to avoid contractual problems. The records of Pig 'n' Whistle Red, Barrelhouse Sammy, Hot-Shot Willie, Georgia Bill and Blind Sammy were all Willie's work and when the Okeh and Columbia labels merged in the late 30's, they found that two of their artists were the same person! Willie made several recordings with 'Ruby Glaze', who may have been his then current wife Kate Williams. He generously invited his friends Buddy Moss and Curley Weaver to record with him several times, but Buddy's career ended when he was jailed for murdering his wife. Willie's delicate picking, his warm, engaging vocals and his superb songwriting ensured that some enduring music emerged from all these sessions, including 'Broke Down Engine Blues', 'Kill it Kid' and 'Married Man's a Fool', but that did not bring him much money nor fame outside his local area.
'Broke Down Engine Blues' is one of Willie's most famous songs;
The musicologist Alan Lomax captured some of Willie's songs for the Library of Congress in 1940 and after WWII, Willie was one of the few country Blues players to continue recording when he picked up a contract with Atlantic. He cut some tracks for them, and recorded a great session with his old friend Curley Weaver in 1950, but sadly, the time for Willie's gentle acoustic Blues had passed and he ended up back in Atlanta playing on streetcorners. Willie became a pastor of the Tabernacle Baptist Church and they paid him to sing spirituals on the radio. One night in 1956, Willie was playing his Blues for teenagers in a nightclub car park, when he was approached by Ed Rhodes, the owner of a local record store. He persuaded Willie to put down some songs, but the tapes lay unused until they were released as 'Last Session' after Willie had passed away in 1959, just before interest in his kind of music was about to explode.
Willie's rich legacy is the catalogue of superb songs he left to us, which have enhanced the careers of Bob Dylan, the Allman Brothers, Canned Heat,
Ry Cooder
and many, many more. Ironically for a man who performed under so many names, his gravestone is engraved 'Eddie McTier', as the mason mistook the name of Willie's cousin, who ordered the stone, for the man who would lie under it. Willie would have made a great song out of that!